Solutions
LEWA triplex diaphragm pumps are a robust solution for use as LPG fuel pumps in marine engines. It is particularly interesting that these pumps are universally deployable and could be used without modifications for other future alternative fuels such as methanol or ammonia.
LEWA triplex process diaphragm pumps offer many advantages as fuel pumps for LPG in marine engines:
Compact design
Hermetically tight
Highest operational safety through built-in safety mechanisms
Dry-run safe
Robust and durable design with minimal downtime and maintenance times
Best possible efficiency
Due to their design, reciprocating positive displacement pumps in triplex design have only very low pulsation
Universally deployable:Promotion of other fuels usually possible without modification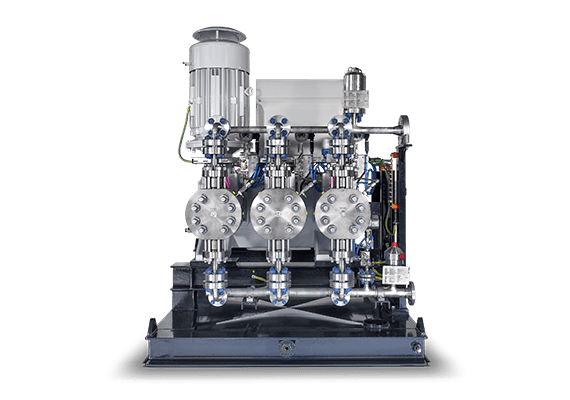 Background
Ships that carry heavy loads are often still powered by heavy fuel oil.
In order to feed the engine, the oil must be heated before it is injected into the cylinders. While burning in the engine, toxic soot and sulfur compounds might be formed, which are visible as gray to black plumes of smoke above the ship.
However, from 2020 it will no longer be permitted for ships running on HFO to enter the so-called ECAs (Emission Control Areas). These zones haven been introduced by many states in order to significantly reduce the emission burden on the population due to maritime traffic. In addition, the IMO (International Marine Organization) has introduced drastic limits for ships that will apply from 2020.
These limits can't be met by ships in HFO mode, or only with considerable retrofit expenses. One effective measure to reduce toxic emissions is the use of dual-fuel engines that have been developed since the beginning of this millennium and that can alternatively burn heavy fuel oil or gases, such as LNG or LPG. Engines powered with LNG easily comply with the limits and can therefore enter the ECAs. The LNG is stored and transported on the ship in a liquid state.
Since LNG is liquid at normal pressure conditions at a temperature of -160 °C, the cooling, the refrigeration and the actual pumping process are very expensive.
This refers above all to the highly isolated tanks, pipelines and pumps, which must all be designed for cryogenic conditions. Additional complexity results from the redundant design of the systems and the high injection pressure of 300 bar, for which pipes and pumps must be dimensioned. LPG is much easier to extract and handle: It accumulates during the exploration of oil and gas and in refinery processes. It mainly consists of a mixture of propane and butane. Under normal pressure conditions it liquefies at about -20 °C. Therefore, LPG can be much easier transported, stored and cooled. In addition, due to the lower carbon content compared to heavy oil, combustion produces about 10% less CO2.
The pump technology in use can be much easier compared to LNG due to the significantly higher temperature. Elaborate cryogenic technology is not required and so robust and proven process diaphragm pumps can be used for LPG.
LEWA has been your expert in pumps and packages since the 1950s. With us, you get everything from a single source: Our custom-built packages are used all around the world for offshore crude oil and natural gas production. From China to the United Arab Emirates, strong partners rely on our expertise for crude oil exploration applications.
More Details
LEWA offers customized solutions and references for almost all industries in which processes require exact metering or the reliable conveyance of fluids. As specialists in fluid handling, we of course also have experience in areas outside of our key markets.
More Details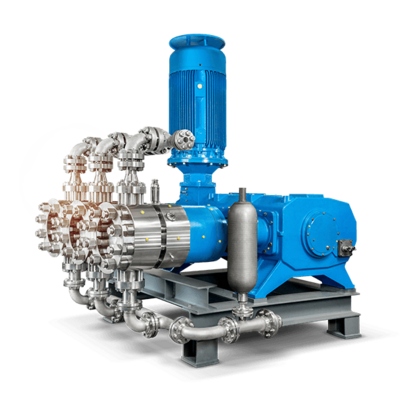 The LEWA triplex process diaphragm pump is among the world's most compact high-pressure pumps and can even be set up in the tightest spaces when space is at a premium. The power package has proven its strength in numerous high-pressure processes in a variety of industries. Oil and Gas icon Gas odor icon gray Refinery icon Petrochemicals icon Chemicals icon Plastics icon gray Cleaning icon Cosmetics icon Pharma icon Food icon Energy icon Other icon
More Details