Chemical industry
LEWA is the Number One for Critical Procedures and Processes
In the chemical industry, systems and chemical pumps for critical processes need to be safe and reliable. Fluids in these processes are not only often extremely expensive, but also highly toxic, and bad for the environment.
That's why hermetically sealed LEWA chemical pumps for up to 1200 bar are the first choice with almost all manufacturers for the production of chemical intermediate and end products. You can rely on our tried-and-tested products and our many years of industry experience and expertise.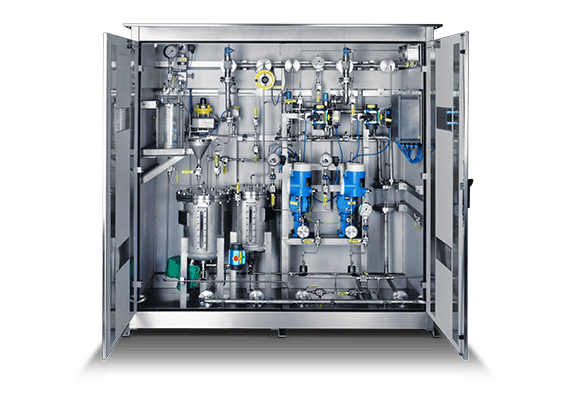 Areas of Application for Chemical Pumps
We plan, develop, and manufacture custom chemical pumps and systems for a wide variety of application areas and processes from the chemical industry. Depending on the design and configuration of our chemical pumps and systems, the following operating ranges apply:
Viscosity: min. 0.1 mPa∙s, max. 1500000 mPa∙s
Fluid temperature: min. -80°C, max. +200°C
Rigid pressure characteristic curve: max. 1200 bar
Scale
Chemical base products
Chemical intermediate and end products

Laboratory
Test center
Production

Isocyanate
Ethylene oxide
Caprolactam
Styrene

Urea
Fertilizers
Pesticides
Insecticides
Aromatic sprays (for living areas)
Vitamins
Amines
Liquid ammonia
Pigments
Melamines

Colorants
Paint additives
Plasticizers
Solvents
Disinfectants
Surfactants
Antioxidants
Acrylate
Plastics
High end pumps, equipment and systems
We deliver high-end pumps integrated into complete systems and units for your specific applications. In doing so, we of course rely on the tried-and-tested LEWA quality.
International standards
LEWA pumps, systems and units are compliant with major international standards such as DVGW G280, WHG, PED, ISO 9001, ASME, ATEX and TA-Luft. Of course, you can also define your own standards.
Variable pump heads
We equip our pumps with application-specific pump heads, e.g. for increased safety in the processing of ethylene oxide and other hazardous substances.
Remote head design
For extreme applications, we offer low and high temperature pumps in remote head design. Thus, we protect the sensitive parts of the pump for a longer lifetime.
Pilot plant for process optimization
You can rely on over 60 years of experience in the design of equipment and systems: In cooperation with you, we develop pilot plants to optimize your processes and procedures.
Tried and tested modular system
We design our systems and units in modular design with numerous engine and pump head combinations for different applications.
Special materials
On request, we can build systems with special materials such as Hastelloy, titanium, duplex stainless steel or further materials. If you are interested, please contact our product manager.
Heating and cooling devices
We respond flexibly to extreme requirements: Pump heads and the complete chemical pump can be equipped with a heating or cooling device, if necessary.
Patented sandwich diaphragm
Our patented diaphragm metering pumps use metal or PTFE sandwich diaphragms with Diaphragm Protection System (DPS) for maximum operational safety.