Oil and gas industries
Used offshore and onshore all over the world
Customers across the globe put their trust in our products in the oil and gas production industry. From antifouling agents through to wax inhibitors – with our pumps and custom packages, you know you are using chemicals safely.
Of course, our pumps also meter corrosion inhibitors, oxygen binders, and other toxic and corrosive substances without a problem and guarantee absolute process safety.
What is more, LEWA offers reliable solutions for high-pressure injection and sealless crude oil and natural gas production. Our systems can cope with the harshest environments: Whether in cold Siberia, the hot Arabian Desert, or on the rough sea – with LEWA products, you're guaranteed efficient and fail-safe processes.
Areas of Application in the Oil & Gas Industry
Whether for the conveyance or further treatment of raw materials – LEWA products and systems offer solutions for all processes in oil and gas production.
Product applications
Chemicals
Purpose
Treating oil, gas, and water
Foam inhibitors
Reduce foam to ensure maximum flow rate
Asphalt inhibitors, antifouling agents
Prevent asphalt formation
Biocides
Minimize the growth of aerobic and anaerobic bacteria
Calcium nitrates
Prevent the formation of dissolved sulfides and H2S
Corrosion inhibitors
Reduce corrosion in pipelines
Demulsifiers, emulsion breakers
Split stable oil-water emulsions
Oil separators/flocculants
Separate oil and production water
Friction reducers, flow rate improvers
Reduce friction losses in pipelines
H2S binders
Prevent corrosion by hydrogen sulfide
Hypochlorites
Prevent the growth of organisms
Hydrate inhibitors with low density/LDHI
Hydrate inhibitors with low metering rate
Oxygen binders
Remove residual oxygen
Paraffin inhibitors
Prevent paraffin formation
PH control agents
Reduce glycol decomposition
Polyelectrolytes
Filter aids
Crust inhibitors, crust reducers
Prevent process equipment crusting
Clarifiers for water
Remove oil particles in production water
Wax inhibitors
Prevent wax formation
Solar-powered systems for injecting chemicals
Corrosion inhibitors, methanol
Inject chemicals in remote and unmanned production sites or pipelines
Gas-powered systems for injecting chemicals
Corrosion inhibitors, methanol
Inject chemicals without emitting (acid) gas in remote or unmanned production sites or pipelines
High-pressure injection
Carbon dioxide CO2
Injection underground
Hydrogen sulfide H2S
Injection underground
Methanol/ethanol
Prevents the formation of hydrate in gas production sites
Glycol (MEG/TEG)
Gas dehydration
Sealless conveying
Condensate
Leak-free pumping of separated product with low feed pressure (high vapor pressure)
Solutions for the Oil & Gas Industry
Count on an experienced supplier – LEWA! Our qualified equipment for natural gas production allows us to comply with all requirements in the oil and gas industry. We offer EPC companies, operators, and end customers our complete portfolio of high-end diaphragm and plunger pumps.
When developing pumps for extracting crude oil and natural gas, we take industry standards as well as your requirements and circumstances into consideration. High pressures, hermetically sealed units, and extreme safety in a compact design are a matter of course for LEWA. We offer you a safe tool for natural gas production in the form of our pump head, for example, which features a PTFE diaphragm for pressures up to 1000 bar and ensures maximum cost-efficiency!
Our many years of experience mean that we are able to offer international engineering and project expertise to assist you in all phases of your project.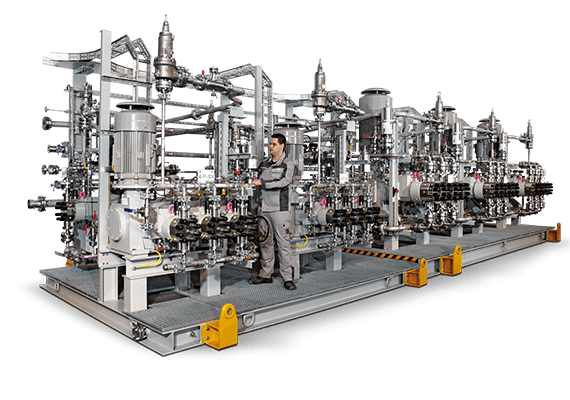 High end pumps, equipment and systems
We deliver high-end pumps integrated into complete systems and units for your specific applications. In doing so, we of course rely on the tried-and-tested LEWA quality.
Complete documentation
Receive supporting documents and certificates, including the operating instructions, as well as design and test details in different languages.
Global commissioning
With our global service network, we take your equipment into operation and provide technical service directly at your location - both onshore and offshore.
International standards
LEWA is ISO 9001 certified. Pumps, systems and units are compliant with all major international standards such as, API, ASME, TÜV and many more.
Calculation of fluid dynamics
When designing pumps and systems, we rely on computer-based calculations of the fluid dynamics in the pipelines and on appropriate integration of pulsation dampers.
Tests according to your specifications
Before starting up the system, we conduct well-documented test runs according to relevant international standards or to your specifications.
Flexible design
You can rely on over 60 years of experience in the design of pumps, systems and units: During the project phase, we respond flexibly to design changes or adjustments required.
Spare parts information in your language
You will get all available information about spare parts (including subcontractors) in your preferred language. Our spare parts service functions quickly and smoothly.
Certified welders
Highest quality and professionally trained staff: Welding jobs are performed by certified welders. On request, we install your system directly at your site.