LEWA Bellows Pulsators
Simple and economical separation of substance mixtures.
The chemical and pharmaceutical industry in particular require systems for separating substance mixtures. The technology and costs associated with this application mean that it is often practical to rely on extraction rather than rectification. This is exactly where the LEWA bellows pulsator comes in.
A pulsating movement drives an extraction column that separates the substance mixture. The bellows pulsator is the perfect system for generating this oscillating liquid movement in a vertical vessel.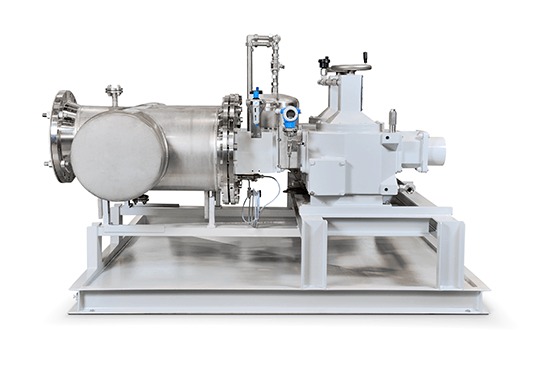 Good reasons to choose a LEWA bellows pulsator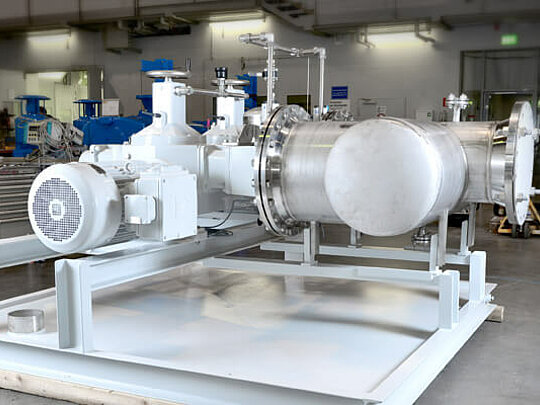 Movement in almost total harmony
The pulsation characteristic exerted by the bellows on the liquid column is a movement that works in almost total harmony. This enables low acceleration forces and, therefore, low compressive stress on the bellows. As a result, the entire system is protected and maintenance times kept to a minimum.
Highly efficient drive
The bellows pulsator is powered with exceptional efficiency thanks to mechanical drive units from the LEWA modular system. We use drive units with either a constant stroke length or continuous stroke length adjustment. A three-phase motor adjusts the stroke frequency.
Long service life and reliability
We guarantee an extremely long service life for our systems: from 8000 to 15000 operating hours. Thanks to a probe monitoring system, we can also prevent loss of production. The bellows pulsator is leakage-free during operation, protecting operating personnel.
Lower operating costs thanks to our pressure equalization system
A gas cushion-supported pressure equalization system extends the service life of the bellows and minimizes drive energy. This allows you to reduce operating costs by a significant degree, especially at high pulsation volumes and extensive column heights.
Adjustable frequency and amplitude range
You can adjust the frequency and amplitude range to ensure perfect separation results.
Gentle pulsation
Gentle pulsation is particularly important for sensitive media to prevent damage to the liquid.
Low noise level
LEW bellows pulsators are characterized by a particularly low noise level.
Continuous or constant stroke length adjustment
You have a choice between a continous or constant stroke length adjustment - individually and precisely tailored to your application.
Bellow / leakage monitoring
Integrated bellow and leakage monitoring systems not only provide high reliability in production, but also ensure a durable machine.
Conductive PTFE bellow
Equipped with special materials for special applications: If you wish, we can implement a conductive PTFE bellow into your bellows pulsator.
Adapted connection geometries
For the smooth installation in your extraction system, we adapt the connection geometries of the bellows pulsator flexibly to your extraction column.
Tests according to your specifications
Before starting up the system, we conduct well-documented test runs according to relevant international standards or to your specifications.
International standards
LEWA is ISO 9001 certified. Pumps, systems and units are compliant with all major international standards such as, API, ASME, TÜV and many more.
Global commissioning
With our global service network, we take your equipment into operation and provide technical service directly at your location - both onshore and offshore.
Complete documentation
Receive supporting documents and certificates, including the operating instructions, as well as design and test details in different languages.
Maintenance and service
No matter if maintenance, spare parts or repair - our service technicians are well trained and available worldwide. Thus, we guarantee fast response and smooth operations.
Technical data
The LEWA bellows pulsators use drive units that are put together using the tried-and-tested LEWA modular system. This ensures that exactly the required performance is available for every application. To date, we have implemented a maximum column height of 18 m and pulsating volumes between 200 cm³ and 21 l. These key figures only show the minimum/maximum values engineered so far – column heights and volumes beyond this are still possible.
Drive unit data
| Type | Stroke length [mm] | Plunger rod force [N] |
| --- | --- | --- |
| LDB | 15 | 2000 |
| LDC | 15 | 5000 |
| LDD | 30 | 7000 |
| LDE | 30 | 20000 |
| LDF | 55 | 24500 |
| LDG | 60 | 35000 |
| LDH | 120 | 60000 |
Installation dimensions
| Type | L [mm] | W [mm] | ΔW [mm] | H [mm] |
| --- | --- | --- | --- | --- |
| LDB | 400 | 400 | 185 | 260 |
| LDC | 450 | 500 | 220 | 320 |
| LDD | 700 | 750 | 280 | 610 |
| LDE | 800 | 900 | 350 | 690 |
| LDF | 1130 | 900 | 430 | 940 |
| LDG | 1300 | 1300 | 490 | 1000 |
| LDH | 2100 | 1800 | 717 | 1500 |
We have supplied durable pumps and metering systems for applications such as the hydrocracking process for over 50 years. Petrochemicals generate starting products for the manufacture of plastics, pharmaceuticals, colorants, detergents, and other products. Contact our experts and allow us to provide you with detailed information about metering and pumping solutions for the hydrocracking process!
More Details
When critical, environmentally hazardous, toxic, or flammable fluids and suspensions need to be reliably conveyed or metered in high-pressure processes, there is no alternative to hermetically sealed metering pumps, process diaphragm pumps, and metering systems from LEWA. Hermetically sealed LEWA pumps with pressures up to 1200 bar are the first choice for the production of chemical intermediate and end products. Contact our experts and let us advise you about your individual chemical pump or system solution!
More Details
As the leading manufacturer of pumps and pump systems for the pharmaceutical, life sciences, and biotechnology industries, LEWA supports you during the development of complete solutions, which meet your process requirements exactly. Special expertise is required in the production of pharmaceuticals in order to ensure that legal requirements are met. Reliability when it comes to production, documentation, and validation are our top priorities.
More Details