Petrochemicals
Catalytic processes with LEWA pumps
Petrochemicals generate starting products for the manufacture of plastics, pharmaceuticals, colorants, detergents, and other products. The most important operations are the various splitting or cracking processes (e.g. steam cracking, hydrocracking). These processes convert long-chained hydrocarbons (e.g., naphtha) into short-chained ones.
LEWA supports your production plants with effective additive metering, as well as with the conveying and treatment of washing water and sour water.
LEWA offers you specialized solutions for the metering and conveyance of the required chemicals and products. We design pumps and systems to suit your requirements and offer you all-round support for processes such as hydrocracking.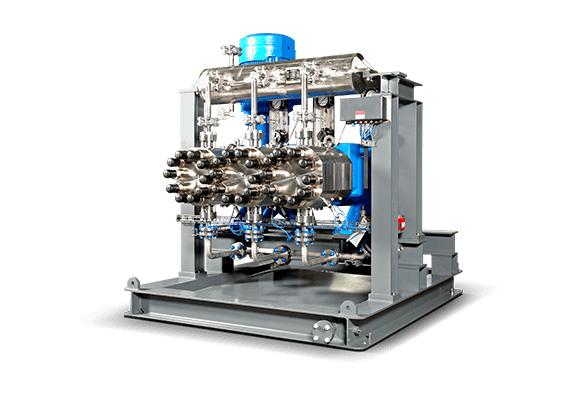 Areas of Application in the Petrochemical Industry
LEWA pumps and metering systems are used in the petrochemical industry for many processes in the hydrocracking and steam cracking sector.
Product applications
Chemicals
Process/System
Metering chemicals
in the petrochemical industry
Deposit inhibitors
Distillation plant, reformer system, cracker, coker
Tetrachloroethylene
Reformer system, cracker
Defoamers
Distillation plant, reformer system, cracker, coker
Emulsion breakers
Desalination plant, distillation plant
Corrosion inhibitors
Distillation plant, reformer system, cracker
Metal deactivators
Cracker
Sulfiding agents
Reformer system, cracker
Lubricity improvers
Reformer system
Oxygen scavengers, oxygen binders
Cracker
In addition to the hydrocracking and cracking process, we also support other typical refining processes with distillation plants.
High-precision metering
Our metering systems are characterized by the highest precision on the market. We use proven LEWA metering pumps in various designs.
Approved materials
All materials used in our pumps and pipes are tested on their resistance to the metered fluid if possible. We happily submit all necessary certifications.
Complete documentation
Receive supporting documents and certificates, including the operating instructions, as well as design and test details in different languages.
Global commissioning
With our global service network, we take your equipment into operation and provide technical service directly at your location - both onshore and offshore.
International standards
LEWA is ISO 9001 certified. Pumps, systems and units are compliant with all major international standards such as, API, ASME, TÜV and many more.
Flexible design
You can rely on over 60 years of experience in the design of pumps, systems and units: During the project phase, we respond flexibly to design changes or adjustments required.
Tests according to your specifications
Before starting up the system, we conduct well-documented test runs according to relevant international standards or to your specifications.
Maintenance and service
No matter if maintenance, spare parts or repair - our service technicians are well trained and available worldwide. Thus, we guarantee fast response and smooth operations.
High reliability
No matter if offshore in rough seas or onshore in the hot Arabian desert: Our systems are characterized by exceptional reliability and availability even under extreme conditions.