Metering and mixing systems
Custom solutions for various applications.
For decades now, we have built customized production units and provided the associated preliminary planning, on-site data collection, as well as testing and calculation services for secondary systems and pressure conditions. Our knowledge of intelligent process management and the instrumentation and control technology required for it yield perfect results.
Even as early as the project planning stage, LEWA is at your side with the experience and expertise you need to reduce your process steps, prevent pipeline problems, save space and equipment, and design the process economically.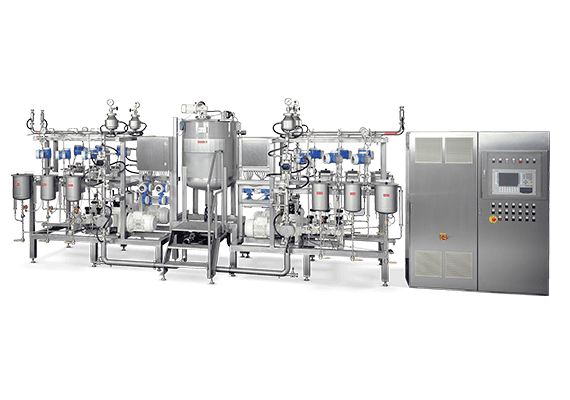 Good reasons to choose a metering or mixing system from LEWA
LEWA designs and builds customized batch/continuous systems for various production processes.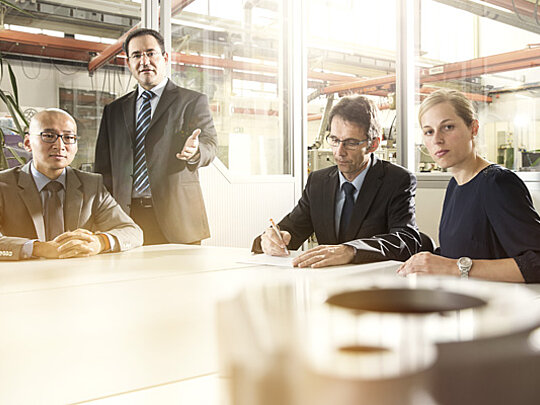 Years of experience in mixing liquids
We have many years of experience in mixing liquids of different viscosities. We are also experts in the injection of slurries, especially where this involves various particle sizes and high settling rates.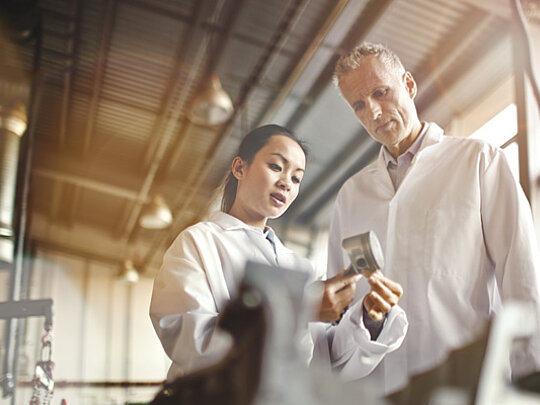 Experts in metering and injection processes
Our process expertise, which creates perfect results in metering and injection processes, is in demand across the world. We also have a wealth of experience in dealing with required dwell times, idle periods, post-mixing, and heat addition and removal for process reactions.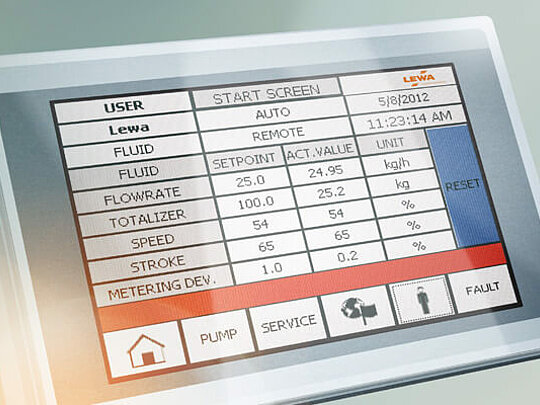 The control system as the intelligence center of the system
Precise, fast control of the metering or mixing system when the setpoint value is changed ensures that the end product is always of top quality. This is achieved by a control system developed by LEWA, which continuously monitors the plausibility of set values and actual values.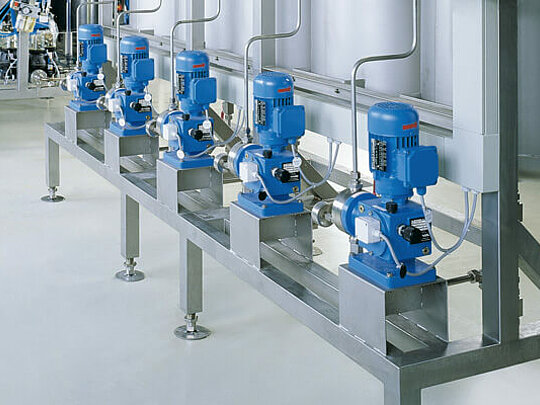 LEWA pumps are at the heart of our systems
We prefer to use our own diaphragm metering pumps manufactured in-house for our metering, mixing and filling systems. These are characterized by continuous stroke length and speed adjustment, ensuring an accurate and wide adjustment range. Pressure has virtually no influence on the metering characteristic, which makes monitoring easy and precise. What's more, high metering accuracy paired with a flow measurement and monitoring system ensures reliable and reproducible production.
Integration of third-party components
Our expertise also helps when it comes to integrating other pump types, provided that these lead to a better result based on the application, the flow rate or the composition of the pumping fluid: All components are adapted to meet your requirements perfectly.
Compliance with all international standards and norms
We clarify all national and international standards and regulations, as well as customer-specific and product-specific requirements, during the design phase. Our systems are developed in accordance with TÜV, API, and other specifications.
LEWA supplies systems that meet customer requirements perfectly. To achieve this, we use our tried-and-tested modular system with various components in line with the needs of the specific application.
Basic components
Additional components

LEWA diaphragm metering pumps or alternatives
Piping
Base frame
Vessels
Control/regulation systems

Static/dynamic mixers
Agitators, colloid mills
Cooling/heating elements
Complete installation in heating cabinet
Flow meters
Filters
Pressure monitoring systems
Shut-off fittings
Control cabinet with control and process display systems
Intellidrive technology
Using the highly-dynamic servomotor, you can adjust the stroke of the pump to the requirements of your system and your process.
Standard and special parts
LEWA offers standard or customized components for control and regulation. The integration into process control systems, also including process visualizations is possible.
CIP/SIP capability for pharma applications
For applications in pharmaceutical, cosmetic and food industry, we offer our pumps and systems in sanitary & hygienic design, which fulfils all standards and norms.
Customized valves
LEWA uses numerous special types of valves such as specially hardened valves for liquified gases or valves with minimal dead space for the food and pharmaceutical production.
Pipelines according to all standards
The piping of our systems can be designed according to different standards: dairy pipe, DIN, ANSI, JIS, Ermeto, Swagelok, Aminco HP, Tri-Clamp etc.
Examination by experts and authorities
We also gladly provide performance diagrams and certificates of static pressure tests also by TÜV, Germanischer Lloyd's, Lloyd's R. of S. or other authorities.
Global commissioning
With our global service network, we take your equipment into operation and provide technical service directly at your location - both onshore and offshore.
Complete documentation
Receive supporting documents and certificates, including the operating instructions, as well as design and test details in different languages.
Testing, acceptance and inspection
We make sure that everything works: LEWA offers numerous services, including factory acceptance test (FAT) at the manufacturing site or at your site (SAT), NDT and PMI.
Technical data
Thanks to our tried-and-tested modular system plus our extensive portfolio of pumps, we can create custom systems that always meet customer requirements exactly.
Performance data
Discharge
pressure,
min. [bar]
Discharge
pressure,
max. [bar]
Flow rate,
min. [ml/h]
Flow rate,
max. [ml/h]
Operation,
min. [°C]
Operation,
max. [°C]
Viscosity
[mPa∙s]
0
3300
10
180
-40
+400
< 1500000
Installation dimensions*
We consistently ensure that the footprint of our systems is kept to a minimum. Pumps, gear units, motors, and piping always have the most compact design possible.
L [m]
W [m]
H [m]
Segment weight**
[max. to]
Vessel [m³]
10.0
3.5
4.0
32
30
* Installation dimensions are approximate
** Larger systems in modular design; other limitations may be imposed by transport restrictions and installation dimensions approved by the customer.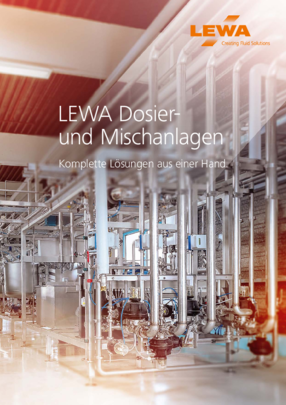 In vielen verfahrenstechnischen Produktionsanlagen spielt das Dosieren und Mischen von Flüssigkeiten als Verfahrensschritt eine wichtige Rolle, der für die Qualität des Endproduktes mit verantwortlich ist.
4 MB | pdf | 18.02.2022
Open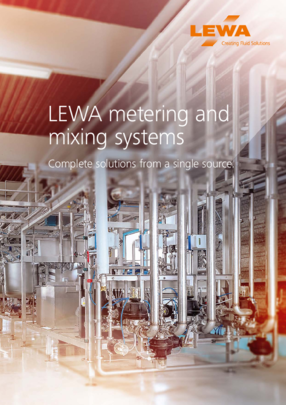 In many manufacturing plants, the metering and mixing of liquids plays an important role as a procedural step that ensures the quality of the end product.
4 MB | pdf | 18.02.2022
Open