LEWA Chemical Injection Packages
The ideal injection system for every application.
Injection systems for chemicals are subject to stringent requirements, with custom designs usually needed for the application in question. There is also enormous demand for reliability and easy maintenance on off-shore platforms and in extremely hot or cold environments.
LEWA thrives on challenges just like these: Thanks to our expertise, we are able to offer Chemical Injection Packages that are not only custom-made, but also feature unsurpassed reliability and quality. We develop skids and packages that comply with both your specifications and international standards (such as ASME, API, and ATEX), and coordinate processing with our global project management team and production facilities.
From the initial sketch through to the finished system – with LEWA, you get everything from a single source.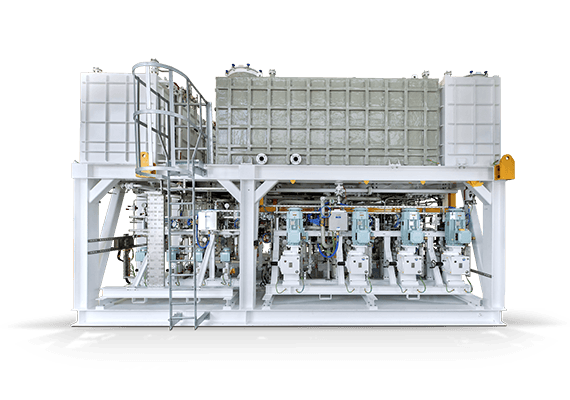 Good reasons to choose a LEWA Chemical Injection Package
A LEWA Chemical Injection Package is a complete system that includes an optimized pump design featuring a tank, accessories, and instrumentation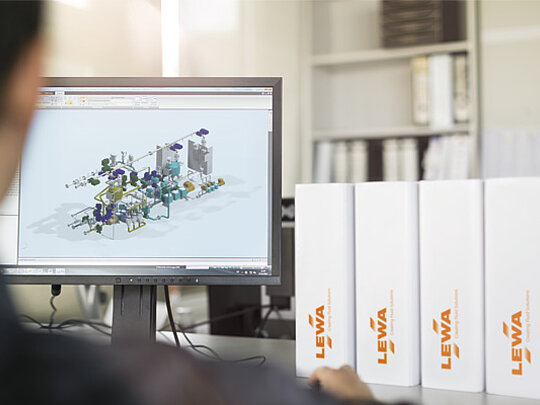 Complete development from a single source
LEWA operates its own in-house development department for hydraulics, mechanics, electrical engineering, and instrumentation. These individual specialisms are perfectly synchronized to develop and implement your custom solution. This means that we can guarantee efficient order processing while complying with the most stringent of quality standards.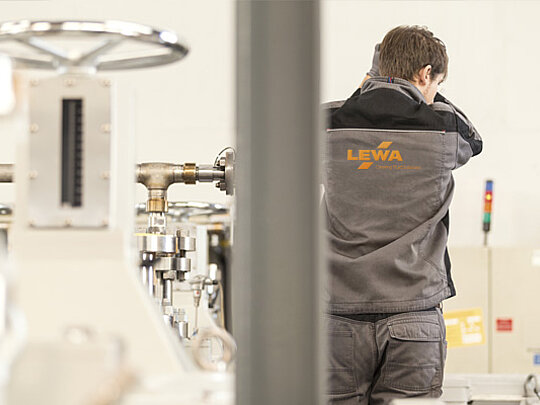 Over 60 years of industry experience
From the Arctic Circle to the Arabian desert: Virtually every oil and gas producer throughout the world puts its trust in LEWA systems. The enormous wealth of experience we have accumulated over more than 60 years in business allows us to provide expert advice and work with you to develop and implement the perfect solution for your needs.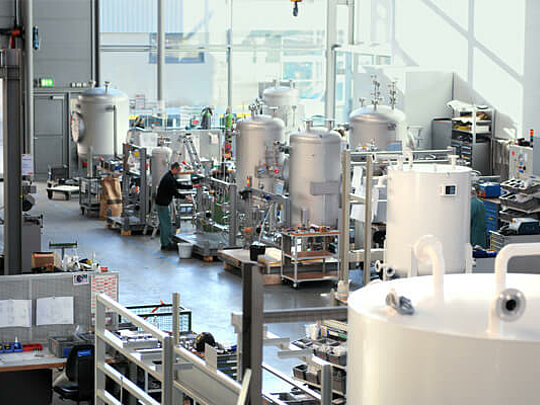 Production sites all over the world
LEWA has a global network of branch offices and production centers. This allows us to ensure that your project will be implemented quickly and economically. Your local contacts are always close by and ready to offer you expert advice on any question.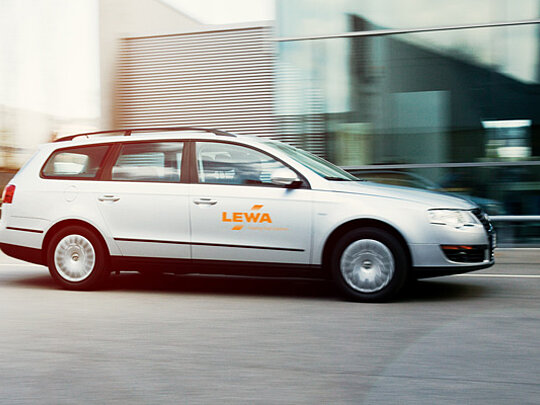 Outstanding service around the clock
There for you when you need us: Our global commissioning and consultancy services are available 24/7. You'll have constant access to a qualified contact person who will take the time to give you expert advice on anything you need to know about.
Videos about Chemical Injection Packages
The biggest Chemical Injection Package ever built by LEWA
Over 40 diaphragm pumps, 120 chemical injection points, over 3,000 valves and instruments, 18 chemical storage tanks – LEWA's biggest Chemical Injection Package ever is a sophisticated record project realized by the highly skilled LEWA engineers. The German manufacturer of world-class pumps invested 7,500 engineering hours to realize the 715 ton weighing package. The Chemical Injection Package with its enormous dimensions of 21 x 21 x 11 meters was a showcase project in terms of engineering as well as project management and organization.
Different drive types
We flexibly react to environmental conditions: Pumps in our Chemical Injection Packages are driven by electric (solar energy), compressed air, gas or diesel engines.
Flexible construction of storage tanks
The storage tanks are constructed in rectangular or cylindrical design. If necessary, we use a multi-chamber system, depending on your requirements.
Pressure-dependent piping
At higher pressures, we recommend obtuse or socket welded pipes. Up to a pressure of 20,000 psi, we use tubing for the supply and the outflow of liquids if required.
High-alloy construction materials
In the construction of a Chemical Injection Packages, we use high alloy materials such as Incoloy, monel, titanium, and Hastelloy. Other options are available on request.
Calculation of fluid dynamics
When designing pumps and systems, we rely on computer-based calculations of the fluid dynamics in the pipelines and on appropriate integration of pulsation dampers.
Assembly on site
From engineering to commissioning – all from a single source: Our systems are suitable for sea transport and can be completely disassembled and reassembled at the destination.
Testing, acceptance and inspection
We make sure that everything works: LEWA offers numerous services, including factory acceptance test (FAT) at the manufacturing site or at your site (SAT), NDT and PMI.

Global commissioning
With our global service network, we take your equipment into operation and provide technical service directly at your location - both onshore and offshore.
High reliability
No matter if offshore in rough seas or onshore in the hot Arabian desert: Our systems are characterized by exceptional reliability and availability even under extreme conditions.
Technical data
Our Chemical Injection Packages are designed for a range of applications. Thanks to the modular assembly concept that can incorporate different types of pumps, we are able to guarantee maximum flexibility.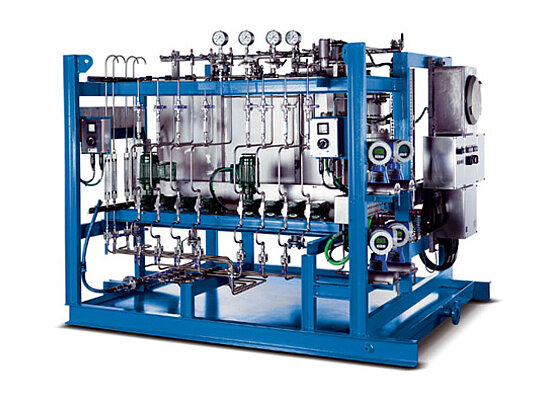 Adjustable flow rates and discharge pressures
Our packages are suitable for flow rates from 5 ml/h to 180 m3/h. With diaphragm pumps, the system is able to operate pressure levels of up to 1200 bar. Plunger pumps, meanwhile, enable discharge pressure levels of as much as 3500 bar to be achieved. The injection system can store a maximum volume of 50 m3.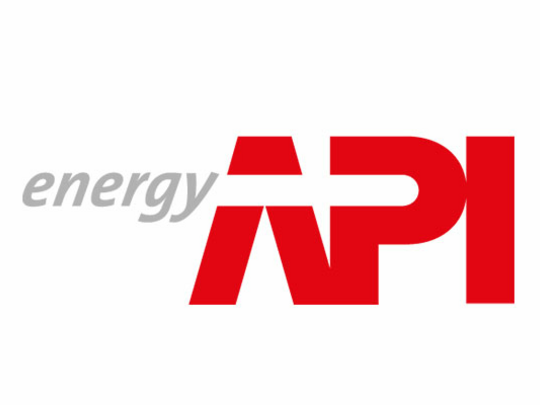 Pumps used compliant with API standards
The metering pumps used in our Chemical Injection Packages are all API 675-compliant and our plunger pumps all meet API 674 standards. Each of the two pump types is available in a single-pump head or multiple-pump head configuration. This means we can guarantee maximum flexibility when designing your Chemical Injection Package.