HNPM - Micro annular gear pump HL
The gear pump for various application fields e.g. Life Science, Chemistry, Mechanical Engineering and many more.
The high performance pump series is well suited for challenging dosing tasks requiring high precision, a middle pressure range, high temperatures and viscosities ranging from 0.3 to 1,000,000 mPas. The pump has a double‑sided bearing systemand is driven by a powerful DC‑servo motor with integrated controller. With a large choice of additional modules such as the fluidic seal module, heating module, heat insulation module or gear modules, the high performance pumps are especially recom‑ mended for mechanical and plant engineering. Depending on the pump size, standardized connectors 1/4"‑28 UNF, 1/8" NPT or 3/8" NPT are offered.
Good reasons for a HNPM - Micro annular gear pump
The micro annular gear pump product range consists of five different series of mzr pumps for dosing and metering small amounts of low to high viscosity liquids. With different equipment, dosing volumes starting at 0.25 μl, flow rates ranging from 1 μl /h to 1.1 l /min as well as pressures from 0 to a maximum of 150 bar are possible. The range of the liquid viscosity extends from 0.3 to 1,000,000 mPas. Operation in an explosion-proof area is also possible.
Advantages
Precise dosing
Long service life due to tungsten carbide and ceramic components
Corrosion-resistant materials
Self-priming
Dosing, metering and rinsing
Further Advantages
Low dead volume
Compact structure
Low weight
Low pulsation
Low shear stress
Wide dynamic range
Forward and reverse operation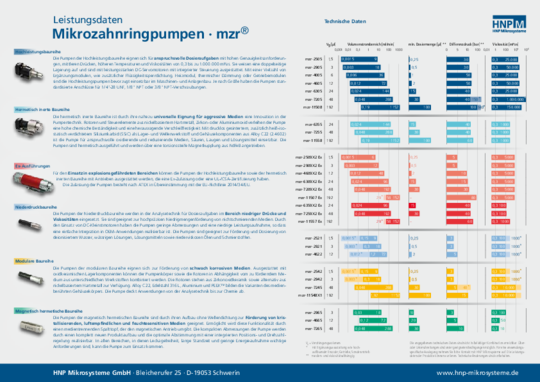 Technische Spezifikationen HNPM Pumpen
226 KB | pdf | 23.08.2021
Open
Life Science
Laboratory and analysis technology
Diagnostics
Cell analysis
Chromatography
Biochip technology
Mass spectrometry
Biotechnology
Chemistry
Fine chemistry
Pharmaceuticals
Polymer chemistry
Basic chemistry
Agrochemistry
Petrochemistry
Food
Cosmetics
Mechanical Engineering
Packaging and filling
Automotive industry
Tobacco industry
Mechanical engineering for medical devices
Cooling technology
Color dosing in plastic injection moulding