Intelligent system control
LEWA smart control
Based on systematically collected experience with flow controlled metering systems, LEWA designed a controller that meets all the important requirements on the "brain" of metering systems.
The control unit continually compares the flow rates (using a flow meter) with the target values (defined by the user or via PCS).
If there are deviations from this continuous plausibility test, corrective measures are implemented. Since the controller saves the characteristic curves of different pumps, deviations without significant overshooting can be controlled faster and more precisely.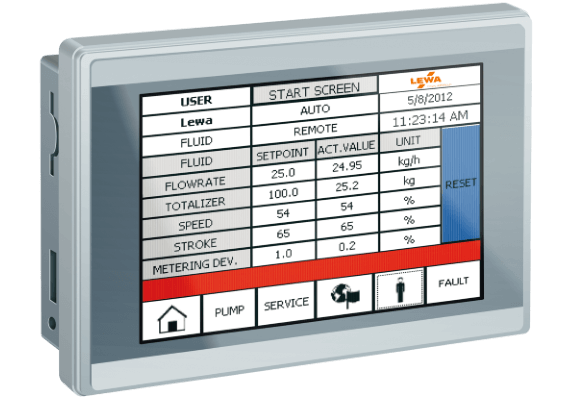 Smart Control technology
The intelligent control system meets all important requirements.
Operation:
Simultaneously control up to two closed control loops
In addition to a single pump with one metering line, multiplex pumps with up to two metering lines can also be controlled
Many displays and overviews can be selected from during ongoing operation. For example, instantaneous values such as target value and actual value, as well as process key values such as deviation in pump efficiency, pressures, temperatures or pump wear, can be monitored and displayed.
Password protected software
Communication via analog signals (4 to 20mA) or optional bus systems, such as Profibus and Profinet
For the basic control, LEWA uses a Siemens control system from the S7-1200 series in combination with operator panels from the KTP series.
Maximum installation: Two pumps and two electric stroke adjustments.
Process examples:
Control of the metering flow: Specification and maintenance of a continuous mass or volume flow
Batch metering: Filling or refilling processes of an adjustable metering quantity X (e.g., refilling up to fill level (e.g., tank), chemical metering of a specific quantity)
Manual metering: (Setting the speed, start/stop at will)
Mixing processes (e.g. dilution of caustic soda): Control of two metered flows in the correct proportion to each other
Options:
Upgrade analog communication on bus (e.g., Profibus, Profinet)
Large touch panel, also available in color
Modular expansion with a) a second metering line and/or b) electrical stroke adjustment for additional automated adjustment range
Customer-specific monitoring of additional parameters (e.g. fill level or pressure)
Advantages/benefits:
Fast and precise control for consistently high quality of your end product
Reliable and cost-effective control unit
Flexible application options that are optimized for the control of metering systems can be integrated in your control system
Universal application range - metering pumps and measurement systems of almost any type can be installed. LEWA adapts the metering systems and the control unit exactly to your requirements.
Easy operation, clear interface and a wide variety of languages to choose from