LEWA ecofoam®
Foam plastics with precision and safety.
When producing plastics, numerous manufacturers rely on the ecofoam system from LEWA for the precise and fast metering of blowing agents in the extruder.
The metered flow of the blowing agent is regulated according to the extruder output. The system – which features an integrated flow measurement system and a control unit – is tested and available as a turnkey system with multiple output ratings. LEWA ecofoam relies on tried-and-tested LEWA diaphragm pump technology.
This means that precise, reliable, and low-maintenance operation is guaranteed for the non-lubricating blowing agent, even at a high vapor pressure level.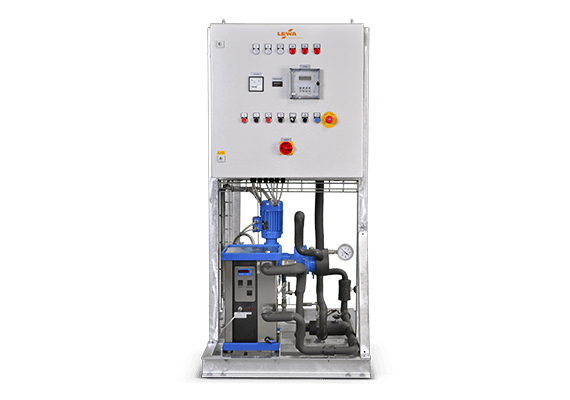 Good reasons to choose a LEWA ecofoam® metering system
The LEWA ecofoam metering system is a complete blowing agent system based on our tried-and-tested diaphragm pump technology.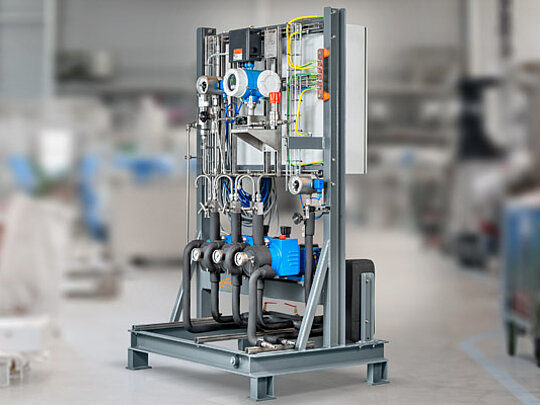 Leasable pilot plant for process optimization
We are happy to provide you with a pilot plant for process optimization. The LEWA ecofoam pilot plant has been designed for all common blowing agents, including a cooling device for CO₂ and an explosion-proof design for combustible blowing agents. You will be happy with the quality of the ecofoam pilot plant and the uniformly accurate metering of various blowing agents. The plant can be leased for up to six weeks for a low flat fee, or longer following consultation.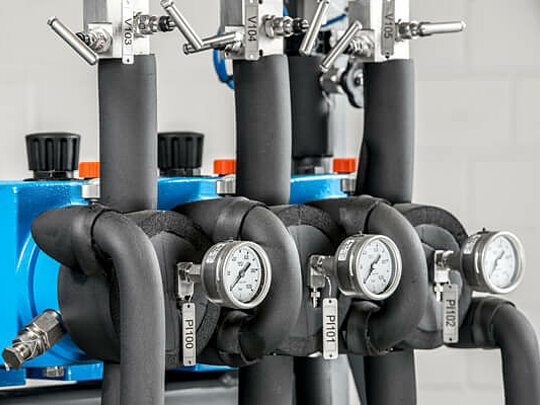 Precise metering of the blowing agent
Precise, rapid control of the metered flow when changes are made to the extruder output or the extruder pressure ensures that the end product is always of top quality. This is achieved by a control system developed by LEWA, which continuously monitors the plausibility of set values and actual values. The control system, metering pump, and Coriolis flow meter are all adapted to the specific application.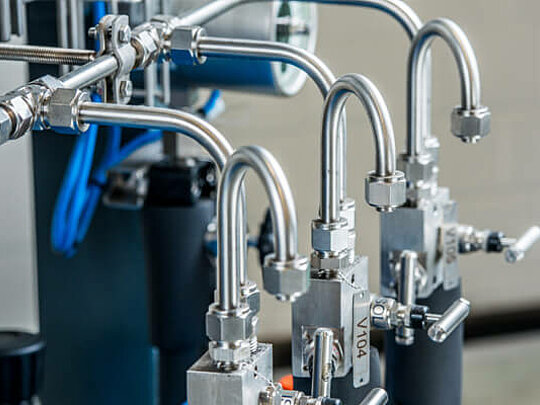 Use of various blowing agents
LEWA ecofoam meters all known blowing agents – from halogenated hydrocarbons (Freon 11, 12, etc.), butane, pentane, and propane through to CO2. We have also delivered pilot systems with water injection technology to customers. You can rely on our decades of experience in various blowing agents. Not only that, but we can even provide further assistance during conversion to CO2.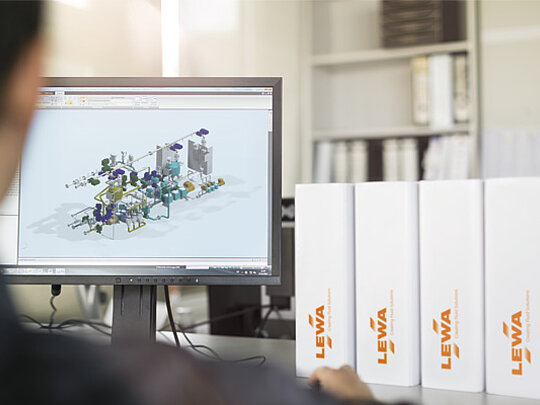 Complete project management from a single source
We work with you during the project stage to clarify all the key process parameters, such as suction pressure, any cooling that may be required, pressurization, and so on. LEWA ecofoam is delivered as a turnkey system and comes completely assembled – including piping and wiring – on a base frame, ready for operation.
Special features for CO2 applications
For CO2 applications, we provide suction-side heat exchangers in the pipeline for cooling the CO2 upstream of the pump inlet and a cooling jacket on each pump head. We also provide a flow cooler for cooling the cooling medium, including the cooling circuit.
Tried-and-tested LEWA diaphragm technology
It goes without saying that our ecofoam system relies on our tried-and-tested LEWA diaphragm technology that features maximum efficiency, complete sealing, integrated protection, and monitoring.
Accessories for efficient use
We supply ecofoam metering systems with a wide range of additional components: a suction-side strainer, two contact pressure gauges for monitoring pressure in the suction-side and discharge-side pipeline, and a type-tested and function-tested safety valve for protecting the metering system against overpressure.
Made from special materials
Individual design: We offer piping, accessories and pump heads made from special materials for your LEWA ecofoam metering system.
Additional metering
You also want to add color or fire retardant in the low-pressure section of the extruder? No problem - you can rely on our expertise.
Special features for CO2 applications
For CO2 applications, we provide suction-side heat exchangers in the pipeline as well as a cooling jackets for each pump head and special run coolers.
Design according to current regulations
We design your ecofoam metering system for operation in hazardous zones, also according to BS & NEC or other regulations.
Examination by experts and authorities
We also gladly provide performance diagrams and certificates of static pressure tests also by TÜV, Germanischer Lloyd's, Lloyd's R. of S. or other authorities.
Pilot plant for process optimization
You can rely on over 60 years of experience in the design of equipment and systems: In cooperation with you, we develop pilot plants to optimize your processes and procedures.
Testing, acceptance and inspection
We make sure that everything works: LEWA offers numerous services, including factory acceptance test (FAT) at the manufacturing site or at your site (SAT), NDT and PMI.

Maintenance and service
No matter if maintenance, spare parts or repair - our service technicians are well trained and available worldwide. Thus, we guarantee fast response and smooth operations.
Complete documentation
Receive supporting documents and certificates, including the operating instructions, as well as design and test details in different languages.
Technical data
Thanks to the tried-and-tested module system of our diaphragm metering pumps, we are able to customize the ecofoam metering system to meet your individual requirements.
Performance data
| Discharge pressure, min. [bar] | Discharge pressure, max. [bar] | Flow rate, min. [kg/h] | Flow rate, max. [kg/h] | Operation, min. [°C] | Operation, max. [°C] | Viscosity [mPa∙s] |
| --- | --- | --- | --- | --- | --- | --- |
| 50 | 500 | 0.05 | 250 | -40 | +40 | < 1 (liquid gases) |
Installation dimensions*
| L [mm] | W [mm] | H [mm] |
| --- | --- | --- |
| 2000 | 1000 | 2000 |
*Installation dimensions are approximate and may vary
We offer you special expertise for all compounding processes in the plastics processing industry (addition of waxes, flame retardants, and lubricants). Contact our experts! We're happy to give you advice about metering and pumping solutions for the plastics industry such as in polyethylene processing.
More Details