Metering of very small amounts down to 1 ml/h.
LEWA intellidrive for micro-metering tasks.
For this application, LEWA developed a metering system with intellidrive technology:
Metering system with LEWA ecoflow packed plunger metering pump for the precise and economic metering of uncritical fluids
Quasi-continuous, constant metering of the oil in very small amounts (down to 1 ml/h)
The drive unit LEWA intellidrive provides intelligent motion control. This enables metering highly viscous fluids and smallest flow rates, even with very large turn-down ratios.
With the control panel, you can adjust settings such as flow rate setpoints, timers, speed control, etc. You can switch between different modes.
An adaptive flow control is possible: The flow rate is kept constant via an internal pump pressure measurement and the data of the piston's movement even under changing operating conditions. The costly use of a flow meter is omitted.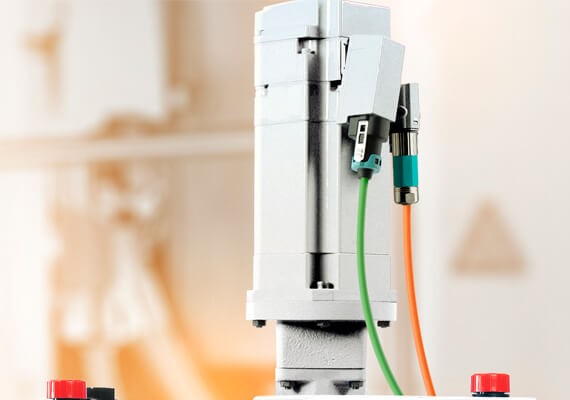 Technical functionality of the metering system in detail
To test whether oil components in liquefied gas have harmful effects on gas combustion engines, extremely small amounts should be guided to oil in a corresponding test stand. To do so, LEWA developed a metering system consisting of an ecoflow piston pump on a support frame, a LEWA intellidrive drive system, a storage container and the associated piping. In addition, a switch box with a control system and all required operating elements were contained in the scope of delivery.
The metering system works according to the principle of adaptive masses or volume flow control. For this purpose, a so-called h0 provision is carried out in the compression phase during continuous operation, i.e. the piston is moved to the rear dead center after the suction phase beginning at the point where the inner pressure is the same as the outer system pressure. Based on this point (h0), the calculation of the necessary stroke frequency needed to achieve the specified target volume flow (e. g. Qtarget = 1 ml/h) is carried out.
The change to the h0 value, i.e. the change in pump efficiency, that occurs due to small air bubbles, for example, is recorded for each individual pump stroke and corrected by recalculating the stroke frequency correctly (adaptive mass or volume flow control). No flow meter is used. Different parameter settings can be set on the provided operating panel.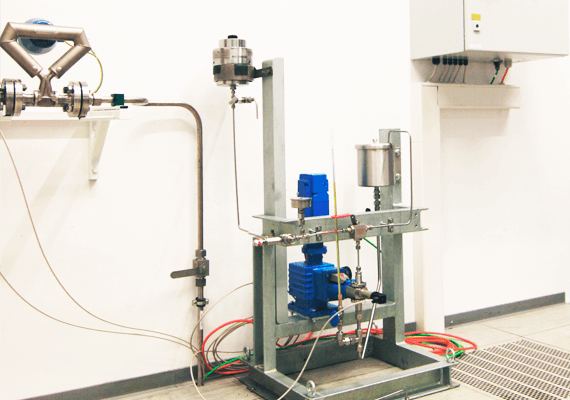 LEWA solutions for microflow metering applications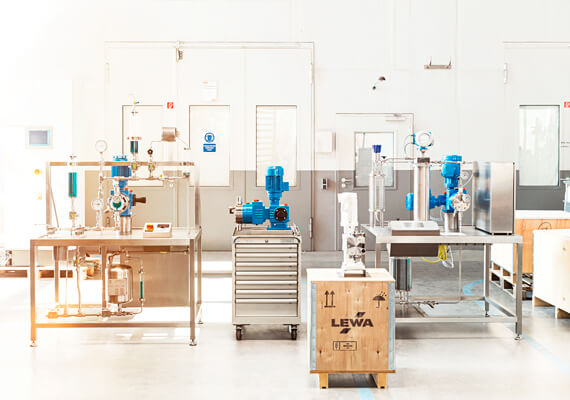 In applications which require addition of smallest amounts of a fluid, LEWA can provide different solutions: In addition to the intellidrive technology, we offer more microflow metering pumps for different requirements such our pump series MAH, MBH, and MLM as well as the FC series. With our microflow metering solutions, you can always realize flow rates from 1 ml/h to 65 l/h at conveying pressures from 1 to 560 bar.
We will be happy to advise you on the best solution for your application!
When critical, environmentally hazardous, toxic, or flammable fluids and suspensions need to be reliably conveyed or metered in high-pressure processes, there is no alternative to hermetically sealed metering pumps, process diaphragm pumps, and metering systems from LEWA. Hermetically sealed LEWA pumps with pressures up to 1200 bar are the first choice for the production of chemical intermediate and end products. Contact our experts and let us advise you about your individual chemical pump or system solution!
More Details
LEWA supports power plant operators and power suppliers with pumps and systems for conveying, metering, and mixing different fluids. We not only provide power plants with our products, but also develop solutions for wastewater treatment plants, gas bottlers, biogas producers, regional power suppliers, and hydrogen producers.
More Details
LEWA offers customized solutions and references for almost all industries in which processes require exact metering or the reliable conveyance of fluids. As specialists in fluid handling, we of course also have experience in areas outside of our key markets.
More Details