Pharmaceuticals, Life Sciences, and Biotechnology
Hygienic Mixing, Metering, and Dilution with LEWA Solutions
Special expertise is required in the production of pharmaceuticals in order to ensure that the legal and regulatory requirements are met.
Reliability when it comes to production, documentation, and validation are our top priorities. That's why you can rely on LEWA's tried-and-tested pumps, pump packages and complete systems for many processes in the pharmaceutical, life sciences, and biotechnology industries. Our experts will be happy to advise you on finding optimum, customized solutions for your metering, purification, mixing, and filtration processes.
LEWA hygienic metering pumps (LEWA ecodos and LEWA ecoflow) meet all aseptic requirements in these processes and are always the first choice when it comes to manufacturing low bioburden or even sterile products.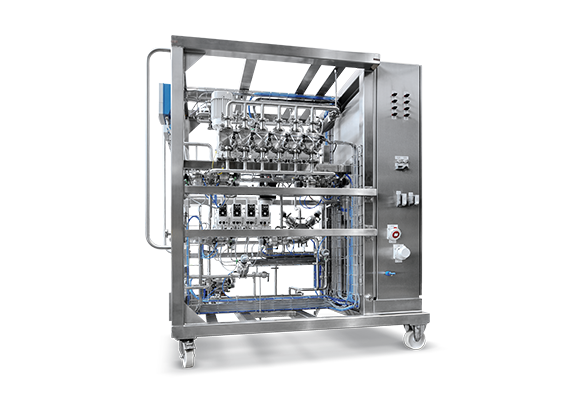 Picture: Buffer inline dilution by means of LEWA hygienic metering pumps or as complete process skid are only one of many solution examples in the pharma and biotech industry.
Inline Dilution, Mixing, Dosing and Other Processes in the Pharmaceutical, Life Sciences, and Biotech Industries
Our systems have in-house engineering and meet all the industry-relevant requirements, such as for inline dilution and dosing (cGMP, GAMP, 21 CFR, etc.). We also offer complete documentation, acceptance tests, validation/qualification, installation, and commissioning services.
System solutions from LEWA can be found in many applications in this market: from the metering of liquids, production of dispersions, homogenization processes at high pressures, various mixing tasks, processes for the dilution of buffers or handling product or concentrates right through to the diverse DSP unit operations. These tasks require precise volume flows and exact conformance with specific process conditions.
Product applications
Task
Process/System
Areas of application for our products and solutions in the pharmaceutical and biotechnology industries
Proportionally mixing sensitive, expensive fluids on a continuous basis
Metering additives for tablet production; tablet coatings, preservatives
Precisely adding fluids during the chromatography process
Dosing fluids into the purification process, diluting buffers and concentrates
Metering sensitive fluids
Adding enzymes, vitamins, flavorings, and additives for fermentation
Aseptically transferring proteins and cells
Adding micro-organisms to fermentations, transferring blood or blood components, transferring products in filling processes
Adding additives
Additives, toxic chemicals
Injecting fluids for extrusion or spraying mechanisms
Producing active ingredients and tablets, adding stabilizers
Microfiltration and ultrafiltration, dialysis systems
Filtering process solutions, carefully concentrating intermediate products (biopharmaceuticals), concentrating and purifying protein solutions, separating cells and particles
High-pressure and supercritical applications
Dispersing 2 phases, supercritical processes with CO2, generating nanoparticles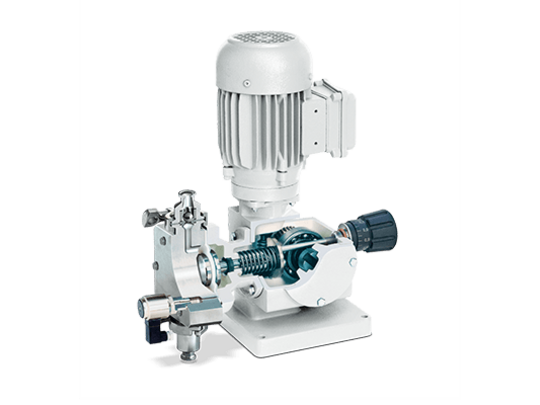 Solutions for the Pharmaceutical, Life Sciences, and Biotech Industries
The biopharmaceutical, fine chemical, veterinary medicine, and special food supplement industries all require systems that are easy to clean and drain, and that are manufactured and documented according to the applicable guidelines. LEWA has the expertise to design and construct customer-specific systems for these industries.
Our scope of supply for these sectors ranges from simple metering systems for metering additives, dosing modules in process chromatography units and buffer dilution systems, right through to complex systems for the proportional mixing or conveyance of various media.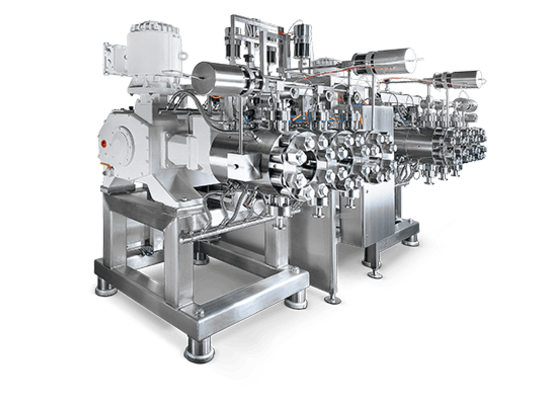 Process-Integrated Pump Systems for Filtration and Other Processes
We also use the LEWA intellidrive technology to solve difficult metering and conveying tasks:
Applications that allow a minimum of pulsation such as sensitive chromatography media or fluids during filtration processes
Highly viscous fluids such as syrup or gel
Highly precise metering during filling jobs
Hermetically sealed for hygienic and sterile processes
Mixing of two fluids in one pump head such as gradient formulation in chromatography processes
At varying flow rates and at inhomogeneous qualities, changing pressures, or temperatures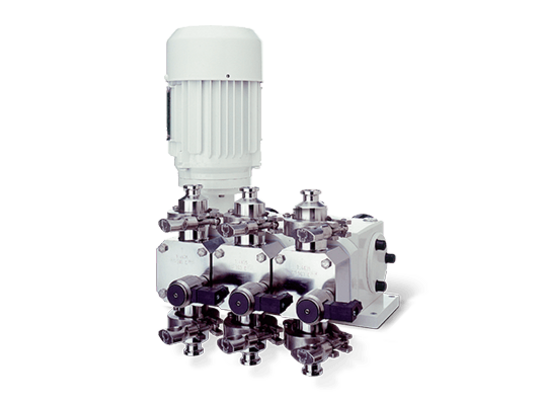 Metering Pumps in Hygienic Design
LEWA hygienic metering pumps (LEWA ecodos and LEWA ecoflow) are hermetically sealed, leak-free, and have no connection, such as a shaft, to the product space. This ensures contamination-free metering and conveying over a long process time frame.
Hygienic pumps can also be used as multiplex pumps (e.g., for metering formulas). This means that several pump drive units can be assembled on one drive shaft. The individual pumps then convey varying quantities into the process. To increase the safety of your aseptic and sterile production processes, LEWA hygienic pumps are tested for their cleanability according to recognized, internationally valid guidelines (EHEDG cleanability test and QHD test system).
High end pumps, equipment and systems
We deliver high-end pumps integrated into complete systems and units for your specific applications. In doing so, we of course rely on the tried-and-tested LEWA quality.
Economic solutions
We always deliver economic pumps, systems and units with minimized energy consumption, high efficiency, low maintenance and a long lifetime.
Tried and tested modular system
We design our systems and units in modular design with numerous engine and pump head combinations for different applications.
Special materials
On request, we can build systems with special materials such as Hastelloy, titanium, duplex stainless steel or further materials. If you are interested, please contact our product manager.
Patented sandwich diaphragm
Our patented diaphragm metering pumps use metal or PTFE sandwich diaphragms with Diaphragm Protection System (DPS) for maximum operational safety.
Sanitary & hygienic design
Highly polished surfaces and a minimal dead space construction are the basis for a system design that meets all the industry's hygienic standards.
Easy to clean
An especially important advantage for pharmaceutical and food industry is that our systems can be quickly and easily cleaned with cleaning chemicals or hot steam.
International standards
LEWA pumps, systems and units are compliant with major international standards such as DVGW G280, WHG, PED, ISO 9001, ASME, ATEX and TA-Luft. Of course, you can also define your own standards.
Maintenance and service
No matter if maintenance, spare parts or repair - our service technicians are well trained and available worldwide. Thus, we guarantee fast response and smooth operations.