Cleaners and detergents
Precise, formula-controlled systems with LEWA
LEWA offers continually operating, formula-controlled systems for the manufacture of household and industrial cleaners in all commercially available surfactant concentrations – from raw product to end product.
We use surfactants as the main active ingredients as they have special properties. Each molecule has one hydrophobic and one hydrophilic end. LEWA also supports surfactant production and processing. You can find more detailed information about this in our Chemical industry description and in the example application Systems for surfactant processing.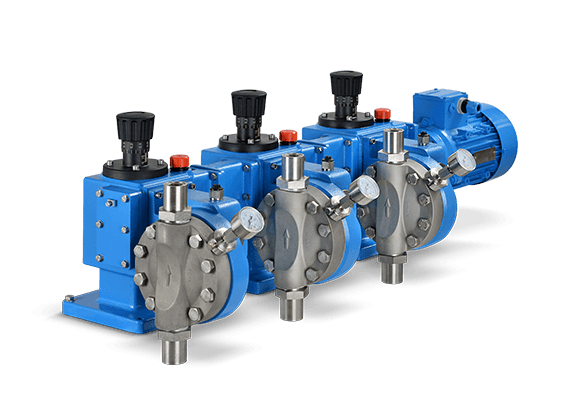 LEWA Pumps and Systems In the Manufacture of Detergents and Cleaners
Our experts are on hand with help and advice and will work with you to develop custom systems and plants for manufacturing cleaners and detergents. You can rely on our many years of industry expertise.
We especially focus on the typical process steps during the manufacture of detergents and many other end products with LEWA pumps and systems.
Example process steps
Examples of end products

The conveying and metering of

water
surfactants
colorants
fragrances
preservatives
other additives and raw products

LES dilution
Production of washing powder using spray drying
Static or dynamic mixing
Heating and cooling

Liquid detergents and heavy-duty detergents
Powder detergents
(Floor) cleaners
Dishwashing liquid
Fabric softeners
Bleach
Disinfectants
Soaps
Wet wipes
Solutions for the Manufacture of Cleaners and Detergents
We work with you to plan and implement fully automated and formula-controlled systems and assist you during the switchover from batch to continuous processing.
The development of the concept, engineering, construction, and delivery of the detergent production system, as well as the process steps including instrumentation, control systems, and automation: everything comes from a single source. Even after commissioning, we support you with comprehensive services, for example in process technology, we offer assistance during process optimization, mechanical maintenance and repair, or with instrumentation and control technology.
The diagram shows you the basic illustration of a surfactant processing system.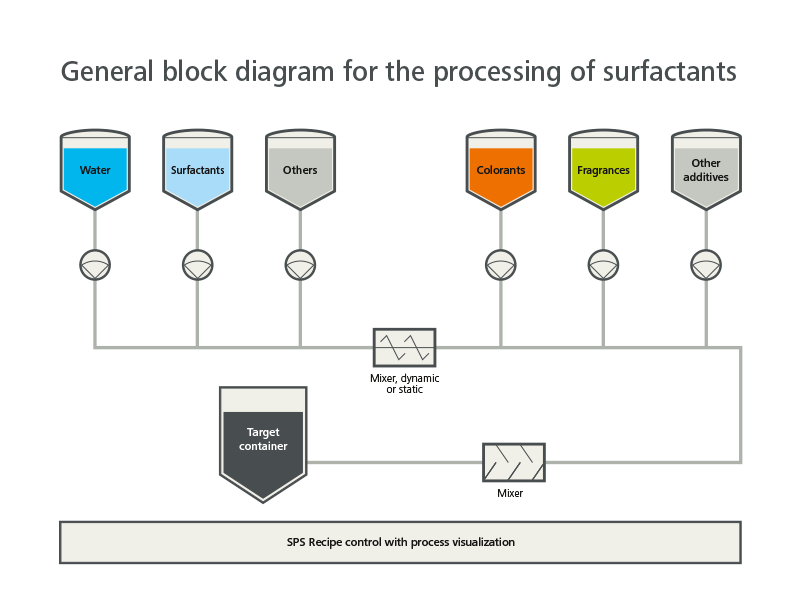 High end pumps, equipment and systems
We deliver high-end pumps integrated into complete systems and units for your specific applications. In doing so, we of course rely on the tried-and-tested LEWA quality.
Economic solutions
We always deliver economic pumps, systems and units with minimized energy consumption, high efficiency, low maintenance and a long lifetime.
Flexible application
High variability in operation in terms of pressure, temperature, flow rate and fluid properties with high metering accuracy guarantee a wide range of applications.
Tried and tested modular system
We design our systems and units in modular design with numerous engine and pump head combinations for different applications.
Special materials
On request, we can build systems with special materials such as Hastelloy, titanium, duplex stainless steel or further materials. If you are interested, please contact our product manager.
Patented sandwich diaphragm
Our patented diaphragm metering pumps use metal or PTFE sandwich diaphragms with Diaphragm Protection System (DPS) for maximum operational safety.
Easy to clean
An especially important advantage for pharmaceutical and food industry is that our systems can be quickly and easily cleaned with cleaning chemicals or hot steam.
International standards
LEWA pumps, systems and units are compliant with major international standards such as DVGW G280, WHG, PED, ISO 9001, ASME, ATEX and TA-Luft. Of course, you can also define your own standards.
Complete documentation
Receive supporting documents and certificates, including the operating instructions, as well as design and test details in different languages.