Above a daily consumption of 1,000 kg of LES, it is worth to calculate the amortization of a conversion to on-site dilution with the LES continuous blender from LEWA.
In this case a highly concentrated LES is purchased and then diluted to the desired process concentration and stored. Depending on daily consumption, the investment in a LEWA continuous blending system can be amortized within a few months.
The advantages of the LEWA continuous blending system are:
Verifiable cost savings
More flexibility in the production
Individual selection of preservatives
Low consumption of preservatives
More independence
Inventory keeps significantly longer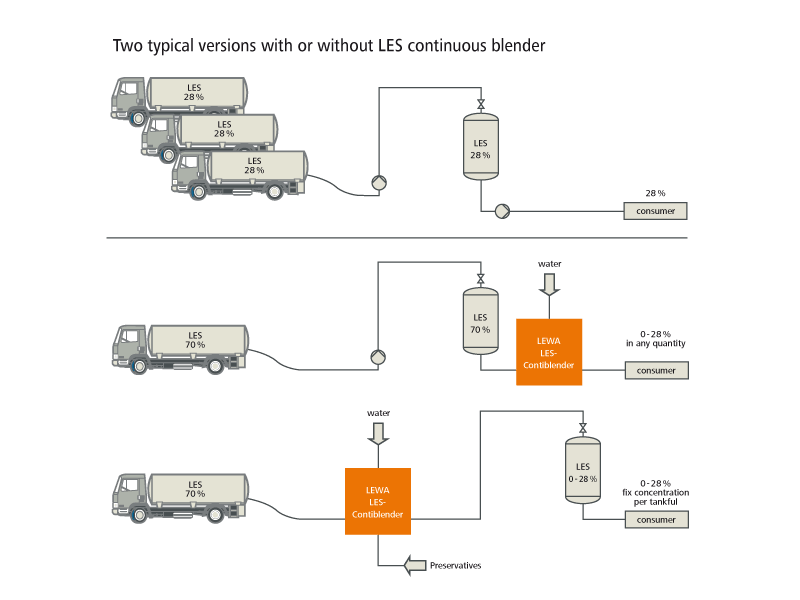 Description of function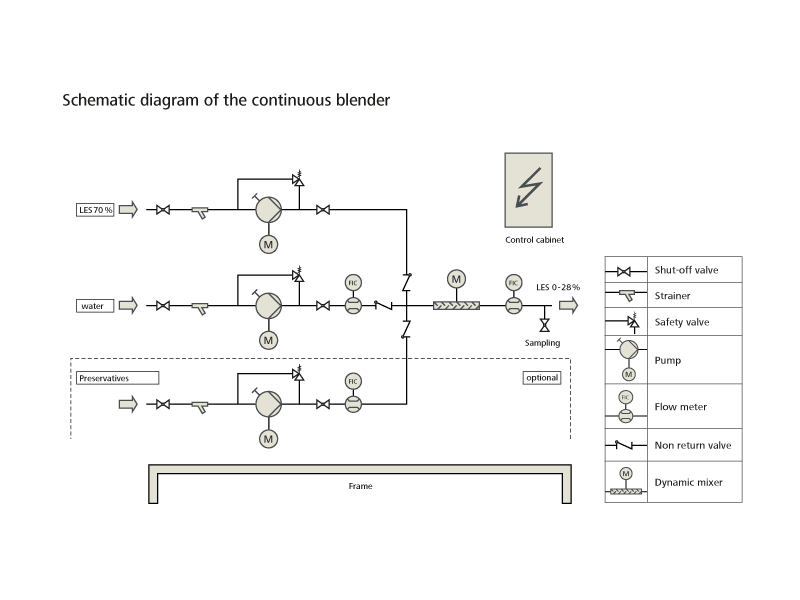 Schematic diagram of the continuous blender
Two typical versions with/without LES continuous blender
LES (70% concentration), water, and an optional preservative are simultaneously conveyed, driven by pumps or differential pressure into the feed of a dynamic mixer and mixed. Synchronous control of the drive motors of the respective pumps ensures continuous uniform quality of the diluted solution via the flow monitoring.
The desired concentration as well as production output can be set using a control panel on the control cabinet on site, or optionally via remote signal.
Available system capacity: 1-15 t/h diluted LES.
Sodium lauryl ether sulfate (LES) is an oil and fat soluble detergent.
Due to its foaming property, LES is used in many body hygiene products and as a fat solvent. For the production of these products, LES is mainly used in an initial concentration of 27%.
LES is usually obtained in the commercial concentration of 27%. When purchasing the pre-diluted surfactant, a large volume of diluting water is purchased as well, resulting in high transport costs.
LES can also be purchased with a 70% detergent substances content and, at the start of the process, diluted in a stirring tank to the desired concentration. This comes with additional time and energy expenditure and has a negative impact on system productivity.
LEWA offers continually operating, formula-controlled systems for the manufacture of household and industrial cleaners in all commercially available surfactant concentrations – from raw product to end product. Contact our experts and let us advise you – we will work with you to configure pumps and systems for the manufacture of detergents and for the production of other cleaners.
More Details
Processes with strict quality and hygiene requirements, such as GMP or the need to avoid preservatives, require the right equipment. We support you in the selection and the design of hygienic components and systems for producing personal care products. Contact our experts and let us advise you – we will work with you to develop customized metering solutions for your process, such as for manufacturing personal care products.
More Details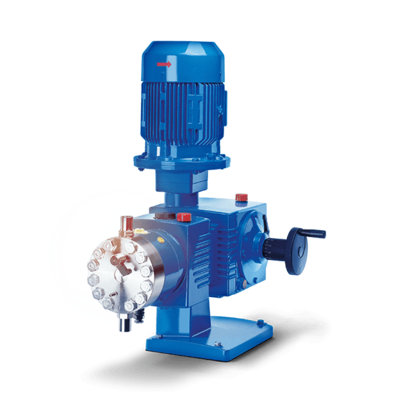 LEWA ecoflow is the innovative and universal metering pump with DPS diaphragm protection system in a tried-and-tested modular system. Suitable for numerous applications, the ecoflow is our real all-around talent, relied on by customers from all industries.
More Details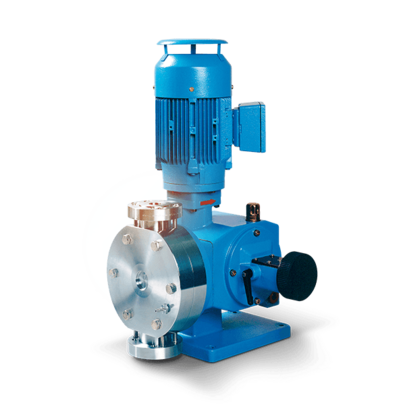 LEWA ecodos is an absolutely reliable, economical and highly adaptable metering pump, especially where diaphragm actuation is not wanted. Here, we also rely on our tried-and-tested modular system in designing the perfect pump for you.
More Details
Customer-specific batch/continuous systems for your production process. Metering, mixing, filling, separating, controlling temperature: We work with you to develop the ideal process-related sequence and produce the system that fits your production process – right up to the end product.
More Details