Plastics
With LEWA Products Throughout the Production Process
LEWA supplies pumps and systems to support you in the many different production steps involved in plastics processing. We assist you in the processing of polyethylene, polypropylene, polyurethane, and polyamide. What's more, we also supply you with metering systems for compounding as well as for catalyst and foaming agent metering.
We offer you special expertise for all compounding processes in the plastics processing industry such as the addition of waxes, flame retardants, and lubricants.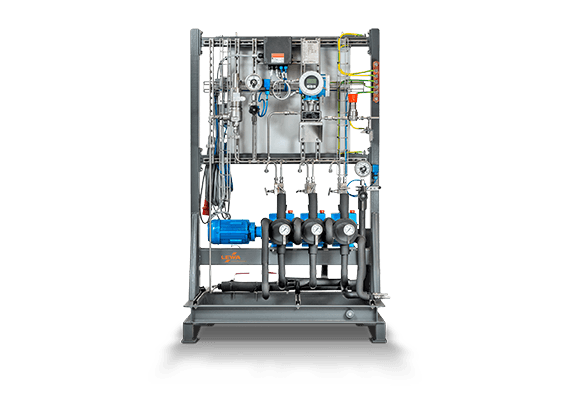 Areas of Application in the Plastics Processing Industry
Our experts are on hand with help and advice and will work with you to develop custom metering solutions. Our expertise in polyethylene processing in particular is in high demand worldwide. In the following table, you can see applications for the metering of reactants and catalysts.
Examples of reactants and catalysts
Examples of plastics

Vinyl acetate
Propylene
Butane
Hexane
Teal, T.E.A.

Varieties of polyethylene

LDPE
MDPE
HDPE
LLDPE

Polyvinylchloride (PVC)
EPVC
SPVC

Ethylene vinyl acetate (EVA)

Dinitrotoluene (DNT)
Raney nickel catalyst
LEWA supports you in the further processing and refining of plastics. This includes compounding, i.e., during the addition and metering of flame retardants and lubricants, plasticizers, colors, antistatic agents, and other additives for property optimization, as well as foaming agent metering during foam extrusion.
Base plastic
Examples of products

Shrink wrap for books, bundles, and pallets
Wrapping film for hand towels, fabrics, PET bottles
Film for baked goods, meat, coffee, frozen foods
Packaging for applications such as milk cartons and "bag-in-box"
Laminated paper and highly stress-resistant containers for industrial use

Polystyrene foam (PS foam)

Insulation boards and food packaging trays

Polyethylene foam (PE foam)

Packaging films, impact sound insulation, ceiling sealants, and insulation tubes

Polyurethane foam (PU foam)

Insulation boards, insulation tubes

Foam granules (EPS/EPP/EPE)

Reusable transport packaging and molded parts for bumper cores

Safety helmets, visors
Lamp covers for the automotive industry

Plastic sheathing for cables
Rubber production
Solutions for Plastics Processing
Our LEWA ecofoam system provides a tested and modular metering system for your specific application in the field of physically foaming polyolefins such as polyethylene processing.
This system is used worldwide by leading manufacturers and is characterized by controlled and exact metering. Not only does this ensure that the foamed product is always of a consistently high quality, it also significantly reduces scrap.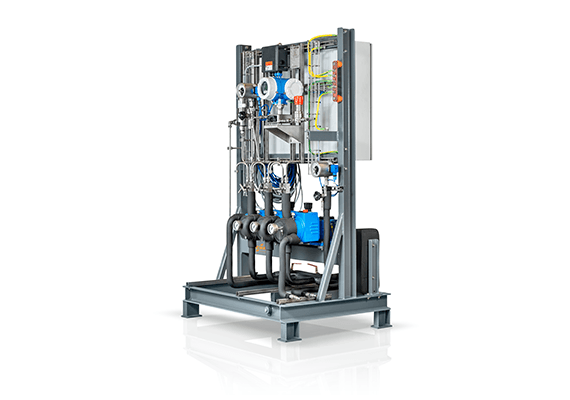 High end pumps, equipment and systems
We deliver high-end pumps integrated into complete systems and units for your specific applications. In doing so, we of course rely on the tried-and-tested LEWA quality.
Flexible application
High variability in operation in terms of pressure, temperature, flow rate and fluid properties with high metering accuracy guarantee a wide range of applications.
Tried and tested modular system
We design our systems and units in modular design with numerous engine and pump head combinations for different applications.
Special materials
On request, we can build systems with special materials such as Hastelloy, titanium, duplex stainless steel or further materials. If you are interested, please contact our product manager.
Heating and cooling devices
We respond flexibly to extreme requirements: Pump heads and the complete chemical pump can be equipped with a heating or cooling device, if necessary.
Patented sandwich diaphragm
Our patented diaphragm metering pumps use metal or PTFE sandwich diaphragms with Diaphragm Protection System (DPS) for maximum operational safety.
Easy to clean
An especially important advantage for pharmaceutical and food industry is that our systems can be quickly and easily cleaned with cleaning chemicals or hot steam.
Explosion protection
Safety comes first: LEWA supplies systems and units, also available with explosion-proof motors for safety of your employees.
International standards
LEWA pumps, systems and units are compliant with major international standards such as DVGW G280, WHG, PED, ISO 9001, ASME, ATEX and TA-Luft. Of course, you can also define your own standards.