Metering silanes with LEWA systems has the following advantages:
Closed and weatherproof systems for outdoor installation (frost and rain proof)
Open system for indoor installation (stationary or mobile)
Safe for installation in ex-zone
System can be adjusted to supply voltage, system hierarchy as well as metering quantity and pressure
System is adapted to meet requirements regarding flammability, toxicity, and corrosiveness of various silane types. (Already metered silanes include: trichlorosilane, tetrachlorosilane, vinyltrimethoxysilane, dimethyldichlorsilane)
Metering of silane with inert gas blanketing (nitrogen) to avoid humidity of air and crystallization
If required, the system can heat up or cool down the silane in the metering process
Metering with diaphragm pump technology (hermetically tight and resistant to abrasion)
Safety valve protects the system from overpressure and damage
Pressure gauge for the surveillance of pipes on suction and pressure side
Mass flow meter
Integrated diagnostic function indicates deviations and disturbances
High system availability; even wear of pump is recognized to enable timely maintenance
Exact metering through continuous monitoring: LEWA smart control conducts plausibility tests between the signal of the mass flow meter (actual value) and guide signal (setpoint value). Thus, the silane flowrate is adjusted to the speed of the extruder or the plastic melt mass
LEWA smart control makes it possible to choose between centralized (multiple extruders controlled by one operating terminal) or decentralized (multiple separate smart control units) operation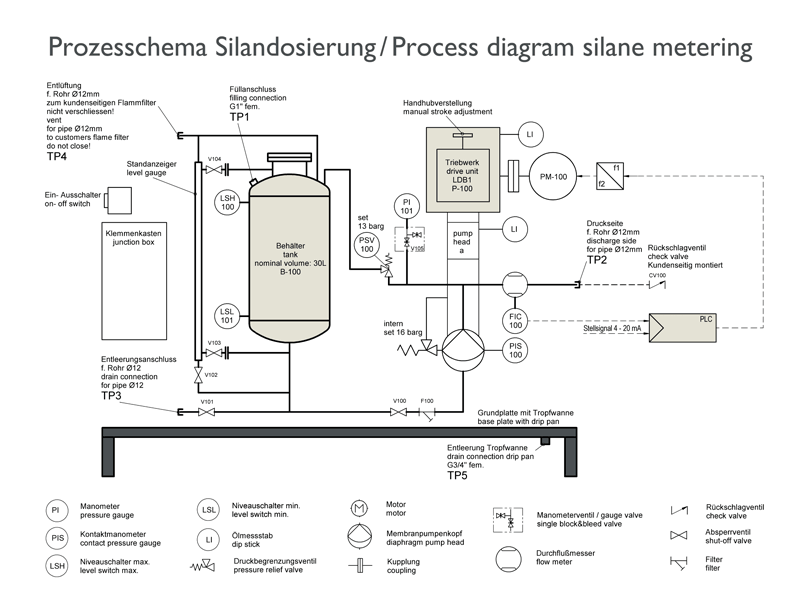 Process scheme silane metering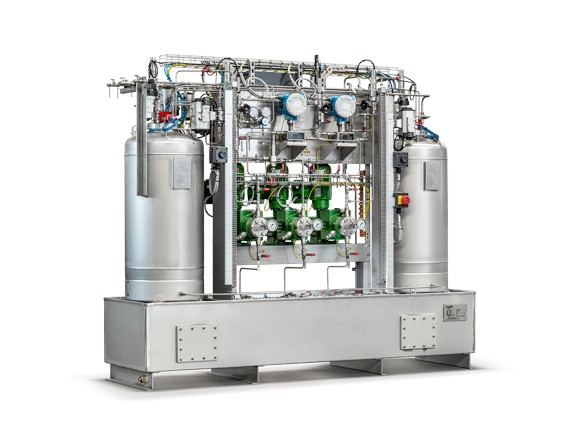 Silanes are used in the following industries and products:
Production of chemical intermediates or chemicals for laboratories
Adhesion promoters for varnish and paint: for high solid paint with few solvents as well as solvent free powder coating and water-based paint, environmentally friendly paints produced by emulsion polymerization with non-toxic organosilanes (silane-modified acrylate coating)
Grafting and crosslinking additives for polyethylene in the production of PEX-pipes und XLPE-cables
Flame retardant compounds that require crosslinked insulation and coating
What is important when metering silane?
In order to meet the production requirements (reproducibility, consistency, product purity etc.) of plastic cables and plastic pipe compounds for the manufacture of cable and/or wire insulation, metering must be precise, easily adjustable, and unaffected by external influences.
The extremely precise metering is effected via a hopper into the extruder (almost pressureless in laboratory applications) or into the process zone of the extruder by an injection pipe which places silane in the melt polymer. The choice of silane type depends on polymers. Special type organosilanes open new possible applications because they are important components of paints and coatings and their adhesion to various grounds is guaranteed for years.
The speed of silane crosslinking in polyethylene of cables can be influenced by:
Silane type
Size of the component that has to be crosslinked
Temperature
Pressure
Amount of existing water molecules
Efficiency of grafting
Amount of catalyst
Source: Wacker Chemie AG, EVONIK Industries