LEWA MAH, MBH and MLM micro-metering pumps
Smallest flow rates, highest efficiency.
In the oil and gas industry, in gas odorizing and in the energy industry, fluid components are often metered in extremely small amounts, proportionally to the variable reference value.
MAH, MBH and MLM micro-metering pumps from LEWA represent an efficient solution for exactly these types of applications: They have an extremely wide control range for maximum metering flexibility and can also still implement small flow rates. With four different solenoid power sizes, they cover an extensive field of application.
The small pump types of the series are also available with solenoids without Ex-protection; these can work against higher pressure. The two control systems specifically developed for this program permit adaptation to a wide variety of different tasks.
Advantages of LEWA micro-metering pumps
LEWA micro-metering pumps are metering pumps with a hydraulically actuated metal diaphragm and solenoid actuator.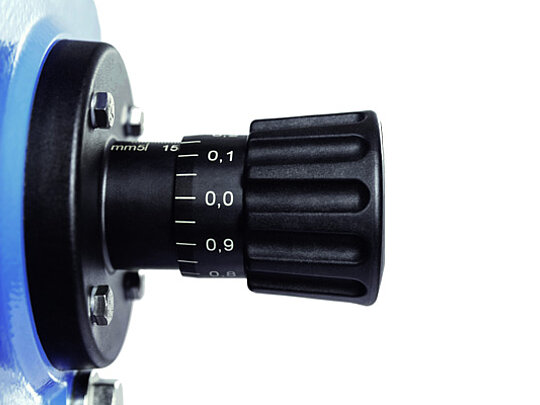 Extremely large adjustment range
Precision is our strength: LEWA micro-metering pumps provide maximum metering flexibility through an extremely large control range of 1:1000. This allows us to fulfill the most stringent requirements for sensitive metering tasks in various industries.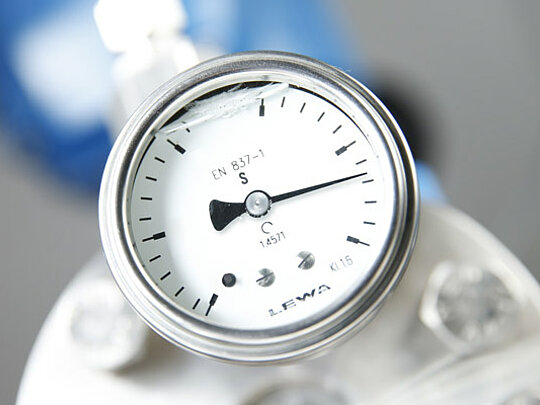 Safety and reliability in extreme operating states
For us, safety and reliability comes first: The pump is not subjected to damage, even after operating errors occur or in extreme operating states. We offer maximum protection for user and machine through built-in safety mechanisms - not only when excess primary pressure is present, but also when the pressure or suction line is closed.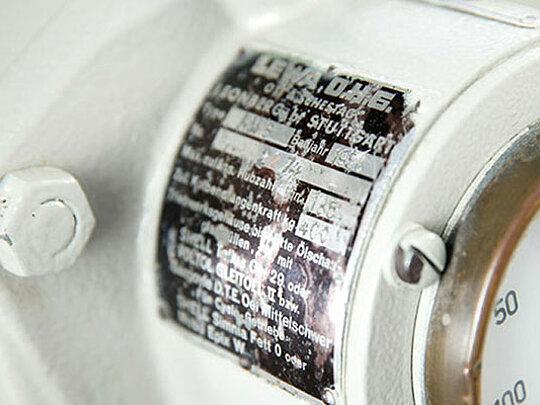 Low maintenance and service life costs
LEWA micro-metering pumps have minimal life cycle costs. They achieve this advantage compared to other micro-metering pumps with high energy efficiency, low operating and maintenance costs and an extremely long lifetime of the diaphragm and process valves.
Vacuum sealed
LEWA micro-metering pumps are not only leak-proof, but also absolutely odor-tight. This ensures that no contamination can occur.
Suitable for virtually all fluids
The micro-metering pumps are suitable for many different fluids. Whether they are dangerous, toxic, abrasive, viscous, environmentally harmful or sensitive fluids, the user-specific configuration always gives you the correct diaphragm metering pump.
Integrated pressure relief valve (only for MLM)
A pressure relief valve in the hydraulic part of the diaphragm pump prevents potential overload situations in operation. This valve is individually adjustable and can therefore be adapted to different operating situations.
Superior metal diaphragm technology
The metering pumps are equipped with sophisticated metal diaphragm technology, which enables discharge pressures up to 500 bar. At the same time, they still meter very precisely at an accuracy of ± 1%.
Dry-run safe
The pumps are dry-run safe. No sliding seals or packages are inserted. This guarantees the highest process safety.
Compliance with common standards
LEWA micro-metering pumps fulfill common standards such as DVGW G280. They are also explosion-protected up to EX-Zone 1.
MAH series without explosion protection
For non-hazardous applications, we manufacture our MAH-series microflow pumps also without explosion protection. Thus we can offer you even more economical micro metering pumps.
Specially adapted control unit
Rely on precision and our experience: We offer you several specially adapted controls for hazardous and non-hazardous zone (for example, MPM, MSG, OLK, OKR.)
Flow meters
A pump is only as good as its control and regulation system. That's why we provide precise flow meters in different variations for accurate control.
Special design materials
If the process demands it, wetted parts such as pumps heads and valves will be made of special materials such as stainless steel 316/316L (1.4401/1.4404), Hastelloy or Duplex steel and PVC.
Heating and cooling jacket
With heating and cooling jackets, our pumps are suitable for almost any temperature and can convey fluids at low temperatures or extreme heat.
Customized valves
LEWA uses numerous special types of valves such as specially hardened valves for liquified gases or valves with minimal dead space for the food and pharmaceutical production.
Integration into process control systems
The signal acquisition of process control systems is achieved analogously or digitally. Flow rate is adjusted via electric or pneumatic stroke adjustment, alternatively by motor drive (FU).
Complete documentation
In the process of documentation, we consider your requirements and provide inspection records, print samples, diagrams of output characteristics and registration papers on request.
Technical Data
The LEWA series M micro-metering pump is available in numerous performance and size variants. We are happy to assist you in selecting the suitable pump for your application.
Drive unit data
With the various micro-metering pump variants MAH, MBH and MLM – available with or without explosion protection – we cover flow rates from 0.01 to 55 l/h and discharge pressures from 4 to 560 bar.
| Type | Without Ex protection | | With Ex protection | |
| --- | --- | --- | --- | --- |
| | Flow rate [l/h] | At max. pressure [bar] | Flow rate [l/hr] | At max. pressure [bar] |
| MAHmin. | 0.01 | 50 | 0.01 | 30 |
| MAHmax. | 1.6 | 6 | 1.6 | 4 |
| MBHmin. | - | - | 1.7 | 50 |
| MBHmax. | - | - | 2.4 | 16 |
| MLMmin. | - | - | 0.5 | 560 |
| MLMmax. | - | - | 55.0 | 5.7 |
Installation dimensions
Various sizes for any intended use: MAH, MBH and MLM differ significantly in their dimensions, MAH and MLM are each available in two different sizes.
| Type | L [mm] | B [mm] | H [mm] |
| --- | --- | --- | --- |
| MAH 3 | 102 | 110 | 260 |
| MAH 5/8 | 102 | 120 | 260 |
| MBH 8/10 | 155 | 195 | 510 |
| MLM 15/40 -3 | 450 | 140 | 260 |
| MLM 15/40 -20 | 450 | 180 | 260 |
LEWA MAH, MBH, MLM micro-metering pumps can be found in numerous applications:
Proportional metering of fluids in variable main currents, e.g. inline blending, natural gas odorization, additive supply, regulation of physical material values to main currents or large volumes with a good mixture in higher-level control circuits, e.g. coloring, viscosity, pH values.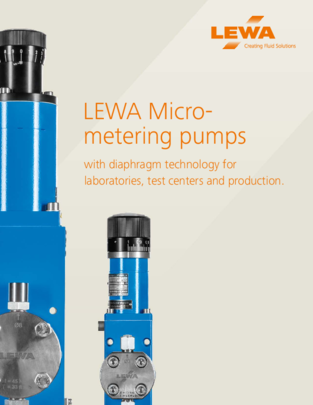 Micro-metering pumps with diaphragm technology for metering fluids in laboratories and test centers.
1 MB | pdf | 18.02.2022
Open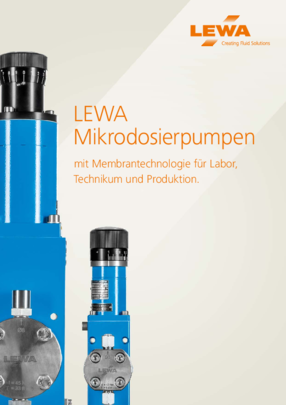 Mikrodosierpumpen mit Membrantechnologie für die Dosierung von Flüssigkeiten in Labor und Technikum.
2 MB | pdf | 18.02.2022
Open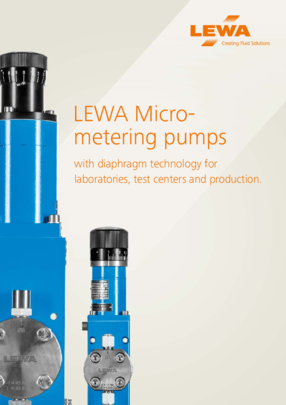 Micrometering pumps with diaphragm technology for metering fluids in laboratories and test centers.
2 MB | pdf | 18.02.2022
Open