Solutions
During dispersion, solid particles in between the guiding surfaces of the pumps can lead to jamming of the movable closing unit. If solid particles are trapped, this prevents the complete closing of a valve. Thus, the fluid can flow back through the remaining gap. If the valve opens only slightly (e.g., with very small stroke lengths or high spring load), solid particles larger than the opening gap may not pass of i.e. a valve.
At low flow velocities (small stroke length, small stroke frequency), solid particles can be deposited in the flow dead spaces of the valve. The consequences of this are non-constant flow rate, increased wear, increase in pressure loss, reduced flow rate up to the failure of a pump.
The following solutions are offered by LEWA diaphragm metering pumps with suspension valves for dispersing:
Different material pairings in the pump head make it possible to optimally convey the various dispersions
Hermetically tight: no foreign matter can enter
Easy handling of abrasive dispersions
Use of suspension valves:

Streamlined
For highly viscous fluids, the pressure loss is counteracted, so that enough fluid can be metered and the volume flow can be ensured
LEWA intellidrive enables the extension of the suction stroke. This allows the pump to be adapted to different viscosities
Speed of the pump can be adjusted to customer requirements, as dispersions sometimes have to be dosed slowly
Flexibility: cooled or heated fluid possible
Heated pump heads with hot fluid
Product is not stressed during the metering process: no segregation of the fluid will occure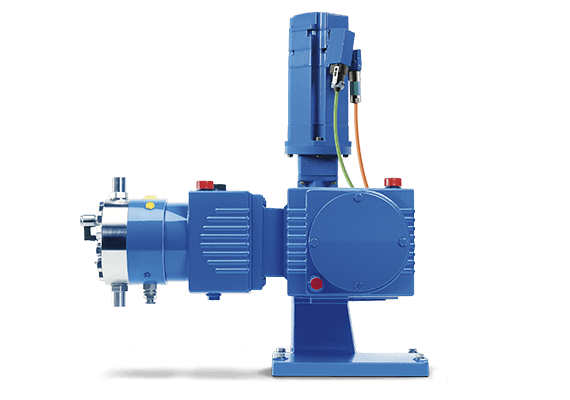 Background
Dispersing – what is it?
If two substances cannot be dissolved in each other or chemically combined, they form an interface. This interface prevents the formation of a dispersion, a heterogeneous mixture of two substances. If these substances are to be mixed together, dispersing is applied. This causes the enlargement of the boundary surfaces, which effectuates a balance of the two substances to be mixed.
More precisely, this is a momentary comminution of the liquid and the solid particles to almost the same size. In addition, long-term stability of the dispersion can be achieved by using emulsifiers and stabilizers.