Solutions for fabric softener production
Plant concept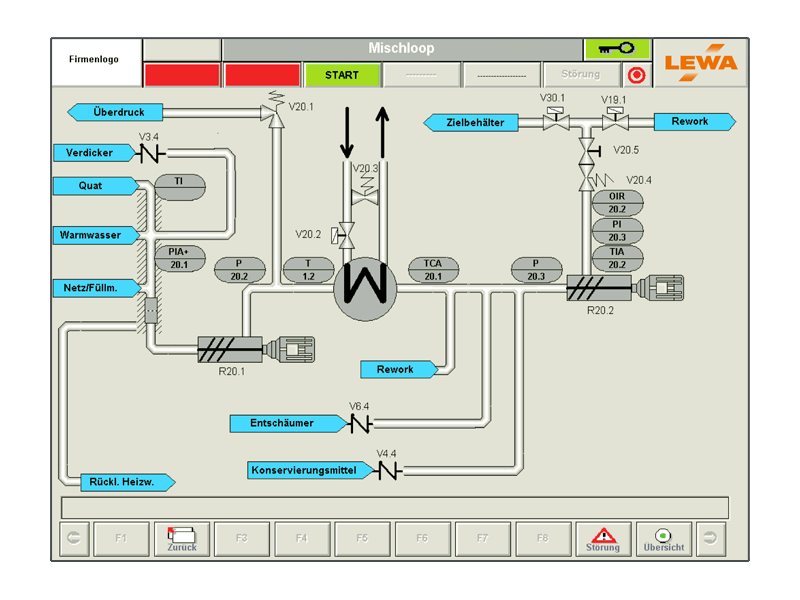 Example: System control - Illustration of process step "surfactant dilution"
1. Features:
Process control via PLC
Central operation and monitoring of the process using control panel on the unit; user prompts and input using touch display
Recipe management and creation using laboratory PC or plant PC
Visualization of processes using logically connected graphic displays with overlaid operating messages, measured values and graphs
2. Equipment:
Selection of tank design and sizes according to logistic data
Tank accessories take into account the requirements for operation and system monitoring
The right pump is selected and designed for each component to be metered
Separate flow recording with continually measuring, highly precise flowmeters for each conveyor line
Blending using dynamic and static mixers and, if necessary, mixing loops
Sampling connections for quality monitoring
Plate heat exchanger for temperature control
Steam sterilization possible, creating the basic prerequisites in the closed system to render use of preservatives unnecessary
Can be split on request for a master batch application/post finishing process
LEWA supplies the entire system from a single source:
Design, engineering, construction and delivery of the system, scope of service on request, complete with:
Tank farm / storage containers
Material transport from storage to the plant
Temperature control
Metering of individual components
Mixing of components
Cooling / total thermotechnical concept, if required
Cleaning concept (CIP/SIP)
Instrumentation
Control system / automation
Or any of these functional groups individually
Selection of equipment in regards to material, dimensions, and quality to achieve an optimum cost/benefit ratio
Consideration of specific on-site features in regard to layout planning, material flow, accessibility
Consistent implementation of environmental protection requirements using the principles of "reduce, reuse, recycle" for both materials and energy
Continuously operating system with the basic intention of introducing only the smallest possible quantities into the production process, avoiding losses when changing recipes or keeping them as low as possible
Reduction of flushing agent quantities during the cleaning processes
Recycling of product volume not conforming to specifications in the recycling process
System operation only requires instruction on the operating system and main components of the system
The most important variables influencing pricing are:
Degree of automation
Scope and number of functional groups
Scope of individual additional requirements
Number of components and recipes
Background for fabric softener production
Process description
During the production of fabric softener, the concentrate, warm water, and thickener are blended in the first dynamic mixer. After the addition of cold water, the product passes through a static mixer and then through a heat exchanger for cooling. Then the "finishing components" are metered according to the recipe and the entire mixture is passed through another mixer.
Any product produced during start up and cleaning or when changing to another recipe and that cannot be used is discharged via a 3-way valve into a rework tank and added back into the process immediately or later, via a separate pump. Typical production units have production capacities starting at 5 tons/hr.
LEWA offers continually operating, formula-controlled systems for the manufacture of household and industrial cleaners in all commercially available surfactant concentrations – from raw product to end product. Contact our experts and let us advise you – we will work with you to configure pumps and systems for the manufacture of detergents and for the production of other cleaners.
More Details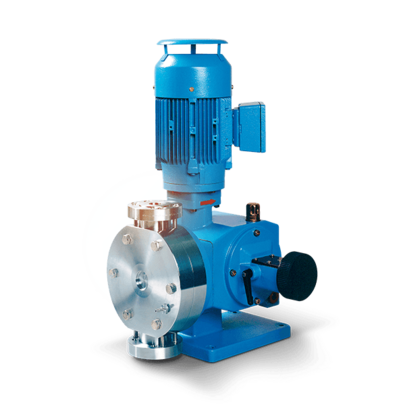 LEWA ecodos is an absolutely reliable, economical and highly adaptable metering pump, especially where diaphragm actuation is not wanted. Here, we also rely on our tried-and-tested modular system in designing the perfect pump for you.
More Details
Customer-specific batch/continuous systems for your production process. Metering, mixing, filling, separating, controlling temperature: We work with you to develop the ideal process-related sequence and produce the system that fits your production process – right up to the end product.
More Details
Turnkey metering system in closed loop control with monitoring and plausibility testing equipment. Your individually configured metering system with an optimally designed pump for fluid metering in automated processes.
More Details