Advantages of LEWA diaphragm metering pumps for pharmaceutical spray dryers:
Hermetically sealed, no contaminants can get in or out
Easy-to-clean design, easy accessibility for maintenance purposes
High security thanks to 4-layer sandwich diaphragm with diaphragm monitoring and signaling without product contamination
Clean operation – no particle abrasion in the LEWA pump
Hygienic design, specially developed with and for the pharmaceutical industry (GMP-compliant)
Coating of spray dryer nozzles with constant pressure through a rigid pump curve
Gentle conveyance, no high shear forces
Low hold-up in the pump head thanks to design with minimized dead space
CIP; SIP; DIP
FAT, SAT and global service
Options:
Material 1.4435 (AISI 316L) with a surface roughness of Ra < 0.5µm
Inert and FDA compliant construction materials
Ex-proof protection, ATEX conformity
According to ASME BPE
Comprehensive documentation for qualification
LEWA is a member of leading committees for the hygienic design of pumps and systems.
QHD Certificate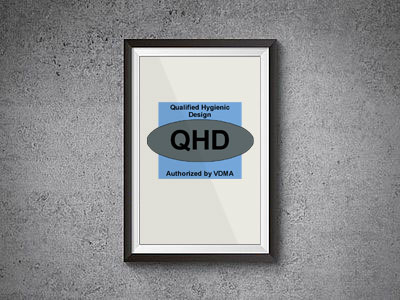 LEWA metering pumps are used, for example, for:
Aqueous solutions, suspensions and emulsions
Compositions based on organic solvents, such as ethanol, isopropanol, acetone or methylene chloride
Filler, binder, disintegrants, sliding agents can thus be dissolved or suspended and transferred with the active material in defined, dry, free flowing, uniform particles.
The fundamental concept of spray drying
The production of finely dispersed powder from a wet charging fluid by vaporizing the liquid:
A solution /suspension is sprayed via nozzles or rotating disk atomizers into a hot air or nitrogen flow
The supply to the spray drying system uses suitable pumps. Drying and particle formation are done simultaneously in the spraying process during this process. Due to these higher requirements on the pharmaceutical technology, the demands which are put on the bioavailability of a drug also increase. The effectiveness of a drug also depends on the generated particle size, after all.
Important customer requirements for this are:
Particle size distribution
Percentage of residual moisture
Bulk density and particle shape
Maintaining exact and consistent quality standards
Precise, continuing, safe and
low-pulsation fluid supply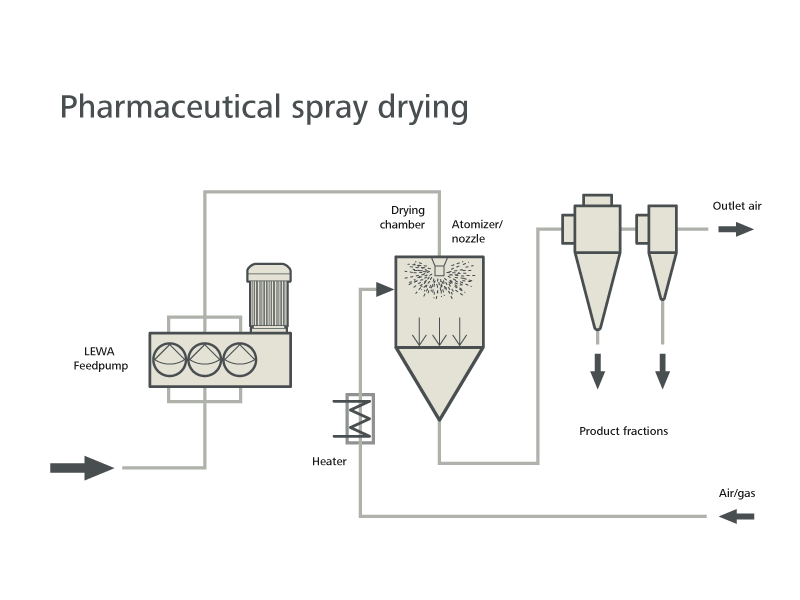 Process scheme pharmaceutical spray drying
Processes with strict quality and hygiene requirements, such as GMP or the need to avoid preservatives, require the right equipment. We support you in the selection and the design of hygienic components and systems for producing personal care products. Contact our experts and let us advise you – we will work with you to develop customized metering solutions for your process, such as for manufacturing personal care products.
More Details
As the leading manufacturer of pumps and pump systems for the pharmaceutical, life sciences, and biotechnology industries, LEWA supports you during the development of complete solutions, which meet your process requirements exactly. Special expertise is required in the production of pharmaceuticals in order to ensure that legal requirements are met. Reliability when it comes to production, documentation, and validation are our top priorities.
More Details
LEWA supports producers and plant construction companies in the food and beverage industries with pumps and systems for homogenization and dispersion, as well as for other processing operations in the food industry. We work with you to plan all the important process-related operations, such as conveying, metering, mixing, heating, and cooling so that you can process your raw product cost-effectively.
More Details