The LEWA giant
Chemical Injection Package for an offshore application on a FPSO.
Pump manufacturer and system integrator LEWA designed and produced the biggest chemical injection module in the company's history. The huge package is designed and manufactured by LEWA subsidiary in Singapore. The customer's requirements as well as the organizational and logistical effort for this project were very demanding.
For the ambitious and experienced LEWA experts, it was a big challenge, which they could cope with flying colors. 2015, the giant was completed: The Chemical Injection Package is used on a Brazilian FPSO. A FPSO is a colossal production ship for oil production, storage and loading.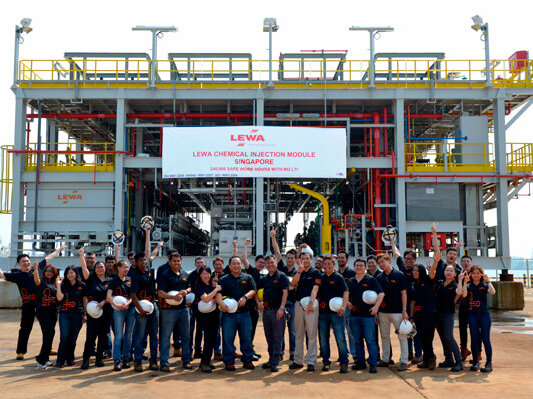 The biggest Chemical Injection Package ever built by LEWA
Over 40 diaphragm pumps, 120 chemical injection points, over 3,000 valves and instruments, 18 chemical storage tanks – LEWA's biggest Chemical Injection Package ever is a sophisticated record project realized by the highly skilled LEWA engineers. The German manufacturer of world-class pumps invested 7,500 engineering hours to realize the 715 ton weighing package. The Chemical Injection Package with its enormous dimensions of 21 x 21 x 11 meters was a showcase project in terms of engineering as well as project management and organization.
Strengths of the LEWA giant
Not only because of its enormous size, has the Chemical Injection Package become a showcase project for LEWA. Numerous requirements had to be met and know-how to be applied in order to realize this project.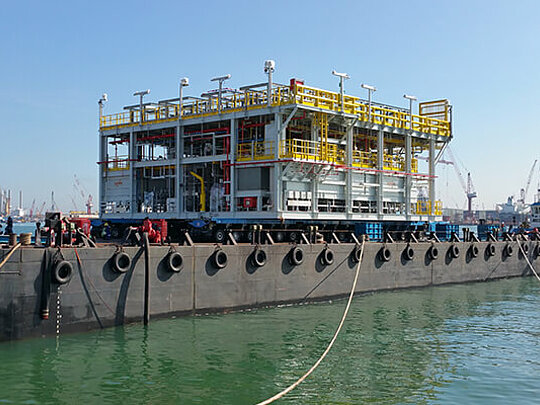 Enormous dimensions
With dimensions of 21.3 x 20 x 10 meters and an estimated weight of 715 tons, the chemical injection module surpasses all previous packages designed by LEWA. All together, there are three levels present in the module. 40 diaphragm pumps and 40 IRCDs can be found on layer 1, layer 2 houses 18 tanks (210 m³) and a GFK tank (5 m³). The platform on layer 3 contains 27 individual tote‐tanks.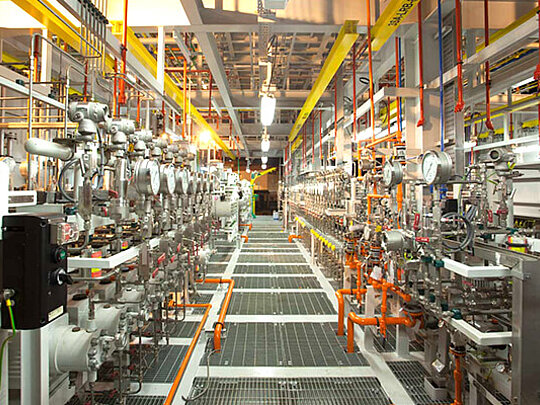 High-quality components
40 diaphragm pumps, 40 IRCDs, 18 storage tanks, and over 3,000 instruments, valves, and more than 3,500 meters of piping and tubing were installed. The components were selected extremely carefully to ensure a safe and efficient operation of the package.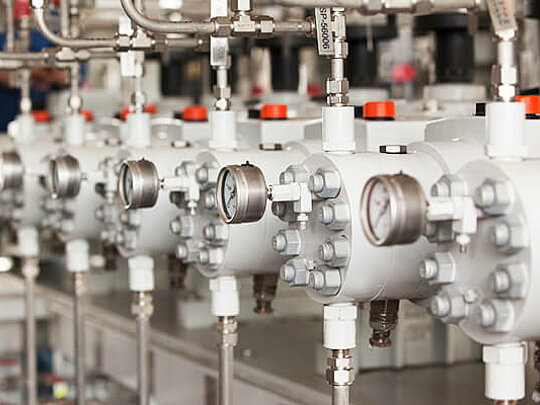 World's most advanced diaphragm pump technology
The technological centerpieces of the giant Chemical Injection Package are more than 40 LEWA diaphragm and process pumps according to API 675 standard. LEWA is the leading manufacturer of diaphragm pumps with the world's most advanced pump head technology. Coupled with the 40 IRCDs, the pumps allow the precise and targeted injection of chemicals in more than 120 points.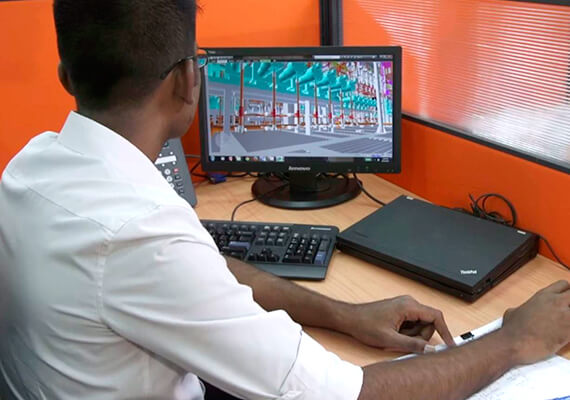 Unique engineering expertise
LEWA has a comprehensive know-how in the field of applications in the oil and gas industry. In order to offer a perfect solution for our customer, more than 7,500 engineering hours were needed to realize the giant package. In 2010 and 2012, LEWA already integrated two custom packages on FPSOs – one with three and one with two levels, each with a total of 36 pumps.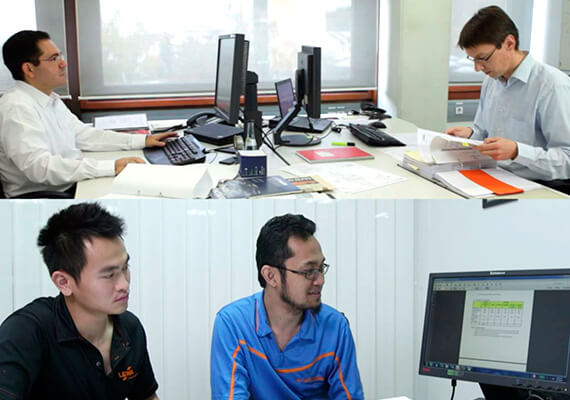 Involvement of our customers in the engineering process
The complete module has been modeled with a plant design management system in 3D and validated by the EPC to avoid potential weaknesses in the different phases of package engineering and to ensure that the design meets all requirements to the operator's complete satisfaction.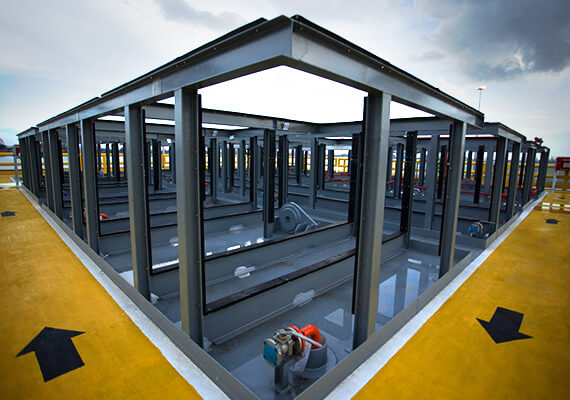 Ergonomics and safety
The arrangement of the components is not only compact, but also ergonomically operable, thus there is no health risk for the operators. The handling of the components is made possible by ten overhead monorails and a davit for a weight of one ton. LEWA designed and installed a complete water spray extinguishing system and light fittings with explosion protection. As prescribed by the NORSOK S2 standards for working environments, access and exit paths were generously dimensioned, despite the limited area.
Compact arrangement
All equipment for the nine- and seven-headed pump systems had to be placed on minimum space in order to realize a compact solution for the extremely limited space available on the FPSO.
Compliance with technical standards and requirements
The pumps and pipelines were made of special titanium materials to be resistant against highly corrosive chemicals. The storage tanks made of fiber compound materials were designed according AMSE-RTP-1 standard. In accordance with the Brazilian NR standards, special color codes were used for the identification of basic, acidic and neutral chemicals.
Excellent service around the clock
We were there when the customer needed us: Our worldwide commissioning and consulting service is available 24/7. Our customers always have a qualified contact person who takes time for them and provide them with competent advice on all topics.
Dimensions and performance data
All dimensions and performance data of the LEWA-record project at a glance:
Properties
Hugest LEWA Chemical Injection Package
Dimensions
21,3 x 20 x 10 m
Weight
715 t
Pumps

40 LEWA diaphragm metering and process
pumps with 40 IRCDs

Injection points
more than 120
Valves & instruments
more than 3,000 components
Storage tanks

18

Piping
more than 3,500 m piping and tubing
Max. operating pressure
385 bar