LEWA pumps offer the following advantages for metering of media for phosphate precipitation in water treatment:
Exact metering of the precipitant (iron(III) chloride)
Absolutely reliable starting of the pump from every operating state; no positioning of the diaphragm required
The hermetic seal of the pump prevents the extremely aggressive precipitant from escaping
Patented sandwich diaphragm with DPS (Diaphragm Protection System) and diaphragm monitoring
Integrated pressure relief valve protects the pump against unacceptable overpressure situations (pressure surges/water hammers), which can cause damage to pumps or lines.
Lowest life cycle costs due to high energy efficiency, low maintenance costs and extremely long service life of the sandwich diaphragm
Highest reliability and availability even after operating error or in extreme operating states (such as a closed pressure or suction line)
Environmentally friendly thanks to high operating reliability and low power consumption
What happens during a phosphate precipitation?
A phosphate precipitation is a physico-chemical reaction in which salts of trivalent metals are used to precipitate phosphates. Non-hazardous iron (III) and aluminium salts are applied for this purpose. Injecting metal salts creates positively charged metal ions which react with negatively charged phosphate ions. The resulting difficultly soluble metal phosphate is precipitated in form of fine floc.
The precipitant has to be injected at the right point in order for the ions to react sufficiently. Subsequently, a flocculation phase ensues during which the fine precipitation products aggregate to settleable floc.
(Source: conaqua.de)
LEWA offers customized solutions and references for almost all industries in which processes require exact metering or the reliable conveyance of fluids. As specialists in fluid handling, we of course also have experience in areas outside of our key markets.
More Details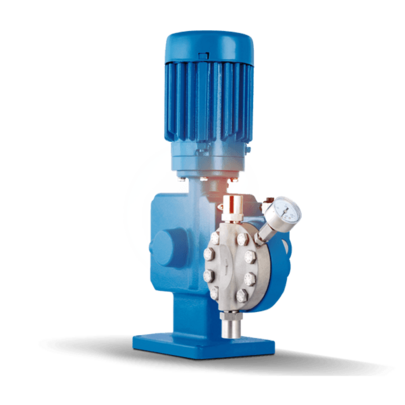 LEWA ecosmart is an innovative, compact and multiplexing diaphragm metering pump at a smart price. With it, we of course guarantee our renowned LEWA quality and offer you our expertise derived from 70 years in the market.
More Details
Turnkey metering system in closed loop control with monitoring and plausibility testing equipment. Your individually configured metering system with an optimally designed pump for fluid metering in automated processes.
More Details