Advantages of using LEWA packages for pigging applications:
Packages with integrated LEWA plunger pumps​​​​​​​ according to API 674 with large hydraulic power capacities up to 720 kW
Discharge pressures up to 3,500 bar
Flow rates up to 210 m³/h
Safety valves according to ASME, API, and EN standards
Flexibility in selection of materials
Fast and economical maintenance of the plunger pump: free access to all wearing parts, no special tools needed
Long life cycle of the gear because of the integrated double helical gear which provides a uniform force distribution and prevents axial loads
Protection of the pump gear from low oil levels and overload by monitoring temperature and lube oil pressure
Multiple use: With corresponding design, the plunger pumps also can be used with other fluids or in other processes (e. g. methanol or glycol injection).
Complete package in explosion-proof design according to ATEX, also with diesel engines
Optional: numerous controls and monitoring units or application specific pulsation dampers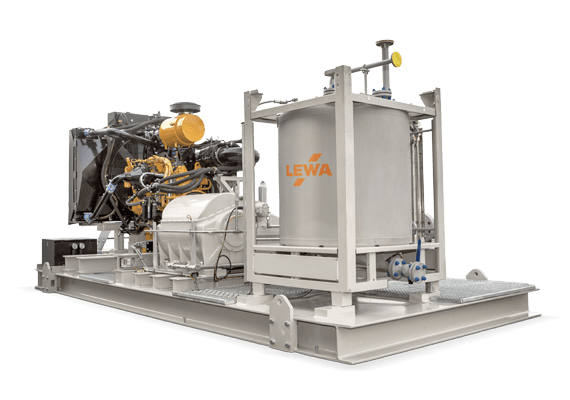 Pigging applications and service tasks in oil and gas industry
"Pigging" is a process in which highly viscous fluids are conveyed out of pipelines. The pig is a cleaning device that is pumped through the pipeline under pressure. Thus, contaminations are conveyed out of the piping.
In the oil and gas industry, usually pipelines with large diameters are in use. There, the pigging technology is not only needed for cleaning tasks. Furthermore, pigs with on-board cameras, ultrasonic or measurement technology are needed to verify the corrosion status of the piping for example. Additionally, some pigs are simply used to physically separate different fluids flowing through the pipeline.
LEWA offers customized packages which are designed for these so-called service tasks in oil and gas industry.
LEWA has been your expert in pumps and packages since the 1950s. With us, you get everything from a single source: Our custom-built packages are used all around the world for offshore crude oil and natural gas production. From China to the United Arab Emirates, strong partners rely on our expertise for crude oil exploration applications.
More Details
Customer-specific batch/continuous systems for your production process. Metering, mixing, filling, separating, controlling temperature: We work with you to develop the ideal process-related sequence and produce the system that fits your production process – right up to the end product.
More Details