Solutions
A pump for the heat.
With the NIKKISO Non-Seal canned motor pump, LEWA offers a suitable solution for the various requirements and customer processes.
Advantages of the NIKKISO Non-Seal canned motor pump in use as a heat transfer pump:
Twin protecting shell: The special structure of the canned motor pump prevents leakage of the metered medium to the atmosphere, even in the unlikely event of damage to the can
No cost- and repair intensive dynamic seals: The lack of a dynamic seal significantly increases the mean time between failures' values and therefore plant safety
Due to the special design without shaft seal and the fluid-lubricated plain bearings, costly and maintenance intensive lubrication systems are not required.
No shaft alignment necessary because of the integral, compact design. A mechanical coupling and coupling guard are thereby eliminated
Very low noise level thanks to the lack of coupling, the usual ball bearings for motor bearing and the motor fan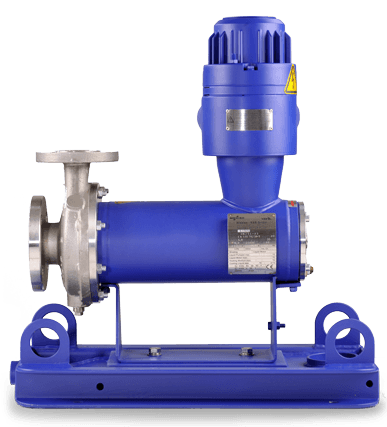 Background
Heater and pump are the heart of the heat transfer circuit.
Heat transfer oil plants are used to indirectly temper processes in production. In these plants, a fluid – such as thermal oil – is utilized to transfer heat. The thermal oil makes it possible to heat or to cool objects or substances during a process. Unlike the use of water as a heat transfer medium, thermal oil can be used to guarantee system operation up to 350°C, even without pressure. In addition, there is neither corrosion nor the danger that the plant could freeze in an outdoor installation.
The heat transfer technology comprises together with the heat transfer oils a very wide range of production processes. The oils are on a mineral or synthetic basis, and can be heated up to 450°C. At such high temperatures, this happens at a pressure of about 12 bar. Typical applications for the canned motor pump include circulation pump the chemical, petrochemical, refinery and energy utilities. Thus, the pump forms the core of a single heat transfer circuit, which is used for indirect temperature control.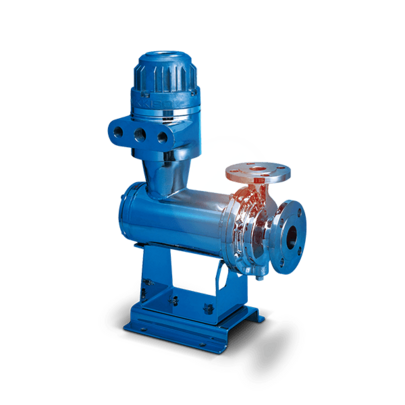 The NIKKISO NON-SEAL canned motor pump has been designed specifically for the chemical industry. To do this, the centrifugal pump is designed in accordance with API 685.
More Details