Pomac rotary lobe pumps provide the following benefits for industrial yogurt production:
Gentle handling of the yogurt mass, which prevents the quality of the yogurt obtained earlier during fermentation from being lost during conveyance.
Complete production with stainless steel prevents any kind of contamination of the yogurt from abrasion.
Electropolished surfaces with roughness up to ≤ 0.6 µ are possible
Good conveying properties in the case of low- and high-viscosity media with solids (such as pieces of fruit)
Very good cleanability (CIP/SIP-capable) thanks to large gap dimensions
Easy, time-saving maintenance and disassembly
The front-pull-out principle enables all different standard seal options to be accessed from the front and interchanged at any time.
Standardized solutions for mechanical seals enable economic stock-keeping of spare parts
Custom builds (base plate) and design are possible to meet customer needs or the specific requirements of the application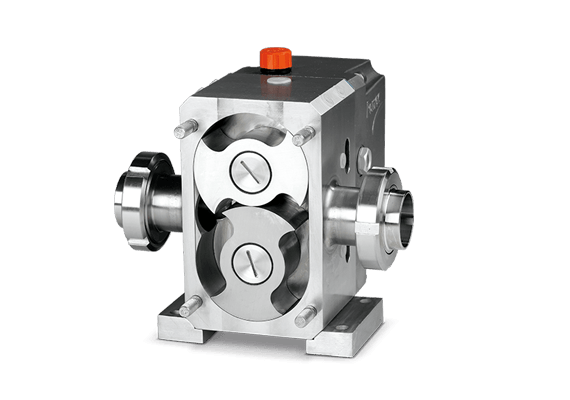 Pomac rotary lobe pumps can also promote various other dairy products in addition to yoghurt products, e. g.
Cottage
Pudding
Cheese
Butter
Whey
Cream
Sour milk
Margarine
Background
The industrial production of yoghurt
The substantial step in the yoghurt production is also called fermentation. In this biochemical process, special bacteria cultures are in use for several hours at temperatures between 40 and 45 °C. The bacteria degrade the milk sugar (lactose) to lactic acid. During this degradation, the proteins congeal and the yoghurt gets its known creamy consistency.
This step is followed either by directly filling the natural yoghurt in its packing or by adding fruit pieces to manufacture fruit yoghurt. In the complete production unit, the yoghurt has to be conveyed under strict hygienic conditions.
After the actual production the yoghurt is transferred to the filling station. Also in this phase, in no case plastic residues, microorganisms, germs from the production environment or wear from abrasion should contaminate the perishable food.
To prevent germs in the yoghurt, the milk is pasteurized at 80 °C even before the fermentation. Nevertheless, contamination can occur during the production. Therefore, pumps are needed which fulfil the strict hygienic standards at dairy production and eliminate the danger of contamination from the environment reliably.
LEWA supports producers and plant construction companies in the food and beverage industries with pumps and systems for homogenization and dispersion, as well as for other processing operations in the food industry. We work with you to plan all the important process-related operations, such as conveying, metering, mixing, heating, and cooling so that you can process your raw product cost-effectively.
More Details